18 - 24 September 2023 update Sydney Market that includes availability and price of seasonal fruits, vegetables and flowers. Also includes recipe suggestions.
---
FRUITS: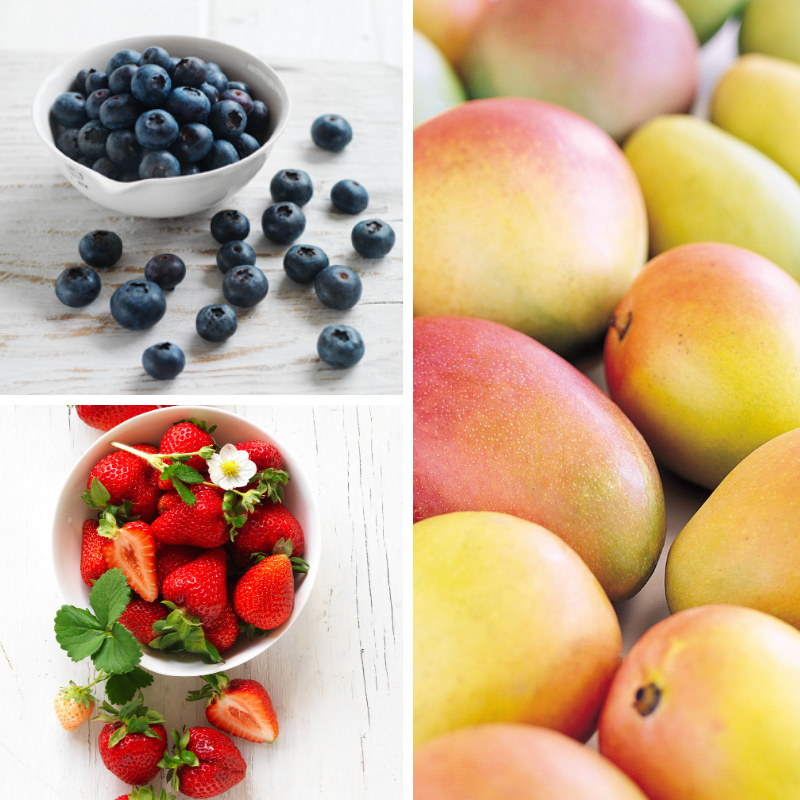 Irresistible Kensington Pride mangoes from the Northern Territory are sweet and tangy. Add sliced mango to a salad, team with strawberries and passionfruit or a quick dessert or whip up a batch of mango and passionfruit muffins. Mangoes are $4-$8 each, depending on size.
Fragrant and sweet-eating Queensland and Western Australian strawberries are plentiful, and prices are only $1-$4 a punnet, depending on variety and size. Poach hulled strawberries in blood orange juice and a little caster sugar for 1–2 minutes. Serve drizzled over vanilla ice cream or thick natural yoghurt
Loaded with healthy boosting antioxidants, fresh blueberries are a bargain, $2-$3 a punnet, and Jumbo blueberries are $4-$5 a punnet. Make a healthy blueberry fool by lightly crushing blueberries and folding through natural yoghurt with a drizzle of honey. It's delicious for breakfast or a light dessert
Pineapples do not ripen further after harvesting. Once cut, cover and refrigerate. Serve sliced, diced, crushed or pureed. Depending on size and variety, pineapples are $3-$8 each depending, size or variety. A tasty way to enjoy pineapple in Spring is to team it with chilli and make a refreshing pineapple and chilli salsa. It's delicious and served with salmon.
Navel oranges from Mildura and Griffith are extra sweet and juicy. At $1-$5 a kilo, they are also great value. It's not too late to pick up a few blood oranges for $2-$6 a kilo. Team the segments for both oranges for a colourful and healthy dessert.
Flesh bunches of ruby red rhubarb is delicious poached, stewed or baked. Team with strawberries to make a sweet compote or quick dessert. Rhubarb is $4-$5 a bunch.
VEGETABLES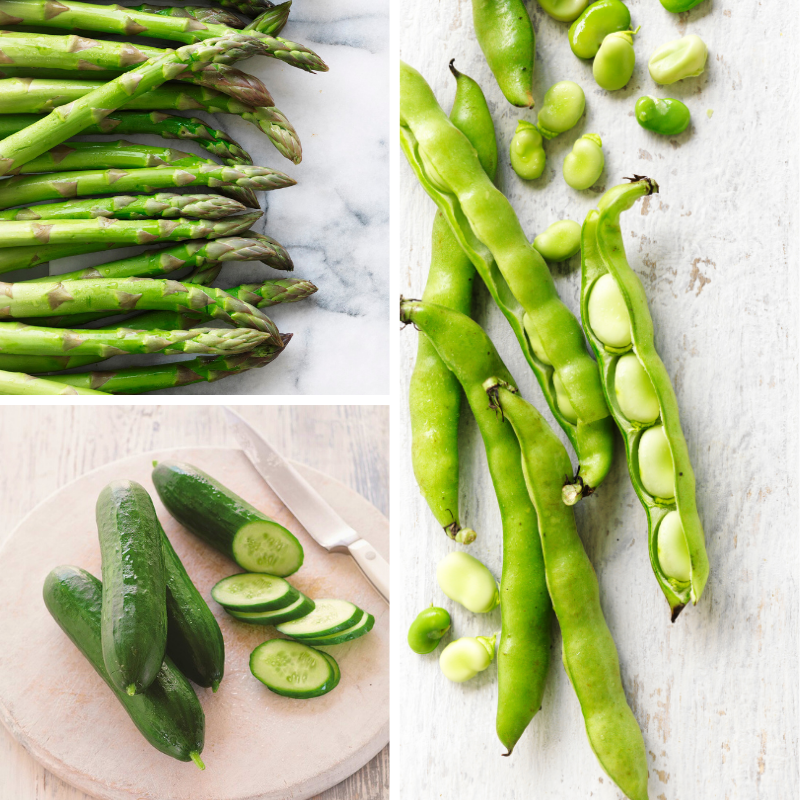 Fresh asparagus is one of the best tastes of spring, and this week bunches are great buying at $1.50-$2.50. For maximum flavour, use asparagus within a day or two of purchase. Asparagus is a good source of vitamin A, vitamin C, iron, potassium and fibre.
Field-grown Australian-grown red capsicums are selling for $3-$5 a kilo. Expect to pay more for imported glasshouse-grown caps.
Tomatoes are easing, and this week salad and truss tomatoes are $4-$5 a kilo, and most mangoes, grape and medley tomatoes are $2-$4 a punnet.
Super versatile celery is a top buy at $2-$4 a bunch.
Refreshing Lebanese cucumbers add a delicate flavour and a delightful crunch to a salad; it adds coolness to a curry. Have you tried adding cucumber, peeled and cut into batons and adding to a stir-fry? Lebanese cucumbers add a delightful texture contrast; pop a kilo in the basket this week for $3-$4 a kilo.
If you are looking for a vegetable with a difference, try tender, nutty-flavoured Sydney basin-grown broad beans at $8-$10 a kilo. To prepare broad beans, simply remove the pods from the shell, then boil or microwave until just tender. Broad beans have a delicate flavour, which is complemented by flavourings like bacon, fresh herbs or garlic.
If you are having a meatless meal this week, this recipe for zucchini, kumara and chickpea curry would be a perfect combination as it uses fresh seasonal produce, both of which are a choice buy this week. Zucchini are $3-$6 a kilo, and sweet eating and versatile kumara are delicious roasted, fried or steamed. Served roasted chunks of kumara with a dollop of red currant jelly, or add to a cold to a salad. Kumara is available for $2-$4 a kilo, depending on tuber size.
Once known as Italian asparagus, broccoli is delicious and nutritious. Steam, boil, pan-fry or microwave tops and stems until just tender but crisp to maintain the bright green colour, about 3-6 minutes. Serve as a vegetable, in stir-fries, salads, fritters, savoury hotcakes, omelettes or with dips. Broccoli is a year-round favourite that offers flavour and value for money at $3-$ a k4ilo.
Spring is a great time to enjoy quality watercress. Rich in vitamin C, this leafy green is delicious, teamed with smoked fish, tomatoes, potatoes, lamb, citrus, and pear, and it is perfect for adding to stir-fries. Watercress is $2-$2.50 a bunch. Try this delicious watercress, green apple and smoked salmon salad.
Mushrooms are tops for value and versatility. Buttons are mildly flavoured; enjoy them raw and marinated in a salad or thread onto skewers with chicken and zucchini and sizzle on the barbecue.
Vibrant-coloured spring beetroot is priced at $3.50-$4 a bunch. Individually wrap whole beets in foil and roast at 180ºC for 1 hour or until tender. Alternatively, gently boil for about the same time.
Sometimes called English spinach, fresh spinach can be used in warm or cold salads or cooked. Select delicate stems and leaves that are tender and bright green; check out spinach this week; it's $1.50-$2 a bunch.
The refreshing menthol flavour and fragrance of fresh mint is perfect for use in spring cooking. Mint combines delightfully with lamb, potatoes, chillies, peas, limes or pineapple. Add a bunch to your shopping list as it's only $2.50-$3 a bunch. Try our delicious broad bean, mint, feta and prosciutto dish.
Keep springtime dining light and easy with crisp sugar snap and snow peas. Choose bright peas that are firm and plump but not bulging. Grab a headful of both varieties of pea, steam and toss peas with chopped fresh mint, crumbled low-fat ricotta cheese and a drizzle of extra virgin olive oil. Sugar snap and snow peas are good value at $8-$10 a kilo.
FLOWERS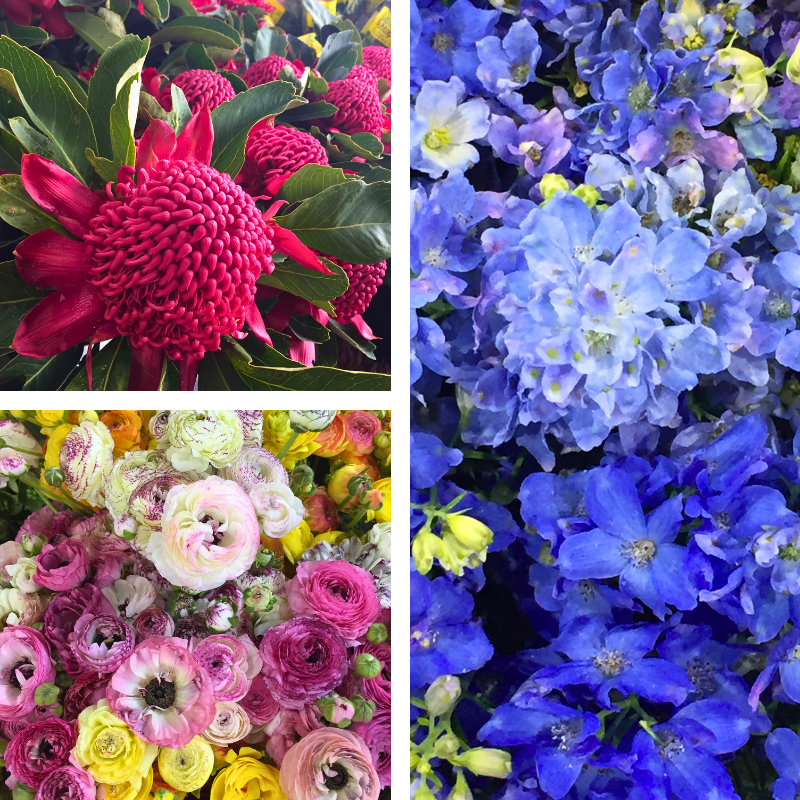 Spring is a great time to buy and enjoy fresh-cut flowers. Your local florist is sure to have quality white fox lilies, delphinium, red waratahs, lisianthus, tiger lilies, pink ice protea, daffodil, gerbera, Geraldton wax, poppies, roses, snapdragons, stock, ranunculus, sweet peas, alstroemeria and rhododendron at great prices. Team these blooms with greenery such as raphis palm or spear grass for an attractive floral display.
Please note that the prices quoted in this report only apply for the current week and are subject to variation based on product variety, size, quality, and the trading area. For more information, please feel free to contact Sue Dodd, Marketing Consultant, at 0438725453
---
Published On 2023-09-18 17:04:00
Print Page