Watercress, green apple & smoked salmon salad
Watercress, green apple & smoked salmon salad
Prep 20 mins | Serves 4
This simple salad is delicious served as a starter or light lunch.
1 Granny Smith apple
1 bulb fennel, trimmed (reserve fronds)
3 cups (350g) watercress, picked & washed (about 1 small bunch)
200g sliced smoked salmon
1 tbs capers, drained and rinsed
Rye bread, to serve
Buttermilk, chive & lemon dressing:
½ cup buttermilk
2 tbs lemon juice
1 garlic clove, crushed
2 tbs finely chopped chives
1 tbs olive oil
Step 1 To make the dressing, combine all ingredients in a screw-top jar. Season with salt and pepper to taste. Shake until well combined.
Step 2 Using a V-slicer or sharp knife, very thinly slice apple and fennel. Arrange apple, fennel, watercress and smoked salmon on a serving platter. Scatter with reserved fennel fronds. Drizzle with buttermilk dressing and serve with rye bread.
Good for you ...
Golden Delicious Apples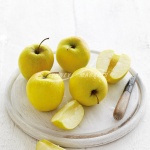 A good source of dietary fibre that helps keep us regular.
Provide vitamin C. Among its many functions, vitamin C contributes to collagen which plays a role in healthy gums, teeth, bones, cartilage and skin.
Low GI (less than 55) which means the natural sugars in apples are slowly digested to glucose