Broccoli & sweetcorn buttermilk hotcakes
Broccoli & sweetcorn buttermilk hotcakes
Prep 15 mins | Cook 30 mins | Makes 12
A great way to 'hide' green veggies, these delicious hotcakes can be served hot for breakfast or brunch or chilled in the school lunch box. Freeze any leftover hotcakes between sheets of baking paper in an airtight plastic container.
400g broccoli, trimmed and roughly chopped
1 corn cob, husks removed
2 cups self-raising flour
3 free-range eggs, lightly beaten
2 cups buttermilk
2 green onions (shallots), trimmed and finely sliced
125g short-cut bacon, chopped
1/2 cup finely grated parmesan + extra to serve
Olive oil, for pan-frying
Step 1 Using a food processor, process broccoli until finely chopped. Slice corn kernels from the cob and set aside. Combine flour, eggs and buttermilk in a large mixing bowl. Stir until well combined. Stir in broccoli, corn, green onions, bacon and parmesan. Season with salt and pepper to taste and stir to combine.
Step 2 Heat a large non-stick frying pan over medium heat. Brush with oil, and using approx. 1/2 cup mixture per hotcake, cook in batches greasing the pan between batches) for 3-4 minutes on each side until golden and just cooked through and serve.
Serving ideas: If liked, lightly spread warm or chilled hotcakes with butter or margarine or serve with diced avocado, mini tomatoes and a sprinkle of extra parmesan. Pop chilled hotcakes into the school lunch box.
Good for you ...
Broccoli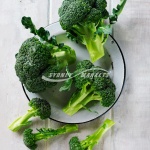 Top of the class for its content of many nutrients, including iron (contributes to red blood cells), potassium (helps balance the sodium from salt) and vitamins, including vitamin C (necessary for normal blood vessel structure and function and contributes to collagen formation in teeth and gums.