Pineapple & chilli salsa with crisp-skin salmon
Pineapple & chilli salsa with crisp-skin salmon
Prep 20 mins | Cook 6 | Serves 4
1⁄3 small pineapple, trimmed and peeled
1⁄4 cup mint leaves, finely chopped
1⁄3 cup coriander leaves, finely chopped
1 green onion (shallot), trimmed and chopped
1 small red bird's eye chilli, deseeded and finely chopped
2 tbs lime juice
4 x 175g Atlantic salmon fillets (skin on), bones removed
Olive oil spray
mixed salad leaves and steamed new potatoes, to serve
Step 1 To make salsa, cut pineapple into 1cm pieces (you'll need about 1 cup of pineapple) and place into a medium bowl. Add mint, coriander, green onion, chilli and lime juice. Stir to combine and season with salt and pepper. Set aside.
Step 2 Heat a large non-stick frying pan over medium heat. Spray salmon with oil and season with sea salt and pepper. Place skin-side down in pan and cook for 2-3 minutes until skin is crisp. Turn and cook for 2-3 minutes until almost cooked through (or cook to your liking). Transfer to a plate, cover and stand for 2 minutes. Serve salmon with salsa, mixed salad leaves and steamed new potatoes.
Good for you ...
Pineapple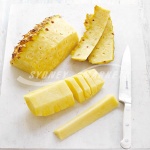 A good source of manganese, a mineral that contributes to the normal formation of bone and connective tissue.
A good source of vitamin C, which contributes to the normal functioning of the body's immune system.
Provides dietary fibre, which helps the intestine function normally.