9 - 15 October 2023 update Sydney Market that includes availability and price of seasonal fruits, vegetables and flowers. Also includes recipe suggestions.
---
FRUITS: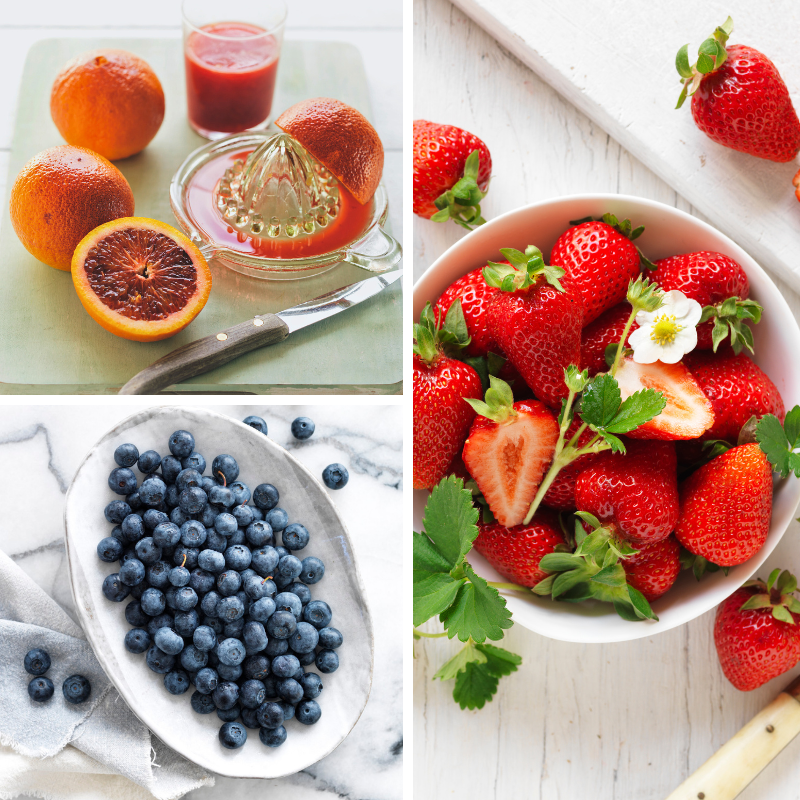 The vivid purplish-blue colour of blueberries is an antioxidant known as anthocyanins, a naturally occurring plant chemical that makes blueberries so blue. Anthocyanins are a powerful antioxidant that can help reduce the risk of disease and the symptoms of aging. Try our magic blueberry custard slice; this clever cake separates into three layers, creating a firm base, custardy centre and a fluffy top. This week, blueberries are a top buy at $2-$3 a punnet, Jumbo berries are $5 and Super Jumbo are $10.
It's a fabulous time to enjoy strawberries. Luscious and flavourful Western Australian, Queensland and Victorian strawberries are now in season and a bargain at $1.50-$4 a punnet.
Tantalising Northern Territory mangoes are plentiful, and the quality is superb. Select from Kensington Pride, R2E2 and t Calypso varieties. Mangoes are $3-$6 each, depending on size and variety. Look for super specials of $25-$40 for a large tray and $15-$20 for a half tray of mangoes at your local greengrocer.
Nice-eating golden fleshed peaches and nectarines from the North Coast of NSW and Sydney basin are starting to arrive in the Sydney Markets. It's early days in the season so medium to large-sized peaches for $20-$30 a kilo. As the weather warms up, fruit will become more abundant, and prices will ease. Drier weather conditions will make fruit sweeter and more flavoursome.
Enjoy the extra sweet flavour and superb taste of juicy navel and blood oranges. Navels and blood oranges retail at $3-$5 a kilo.
VEGETABLES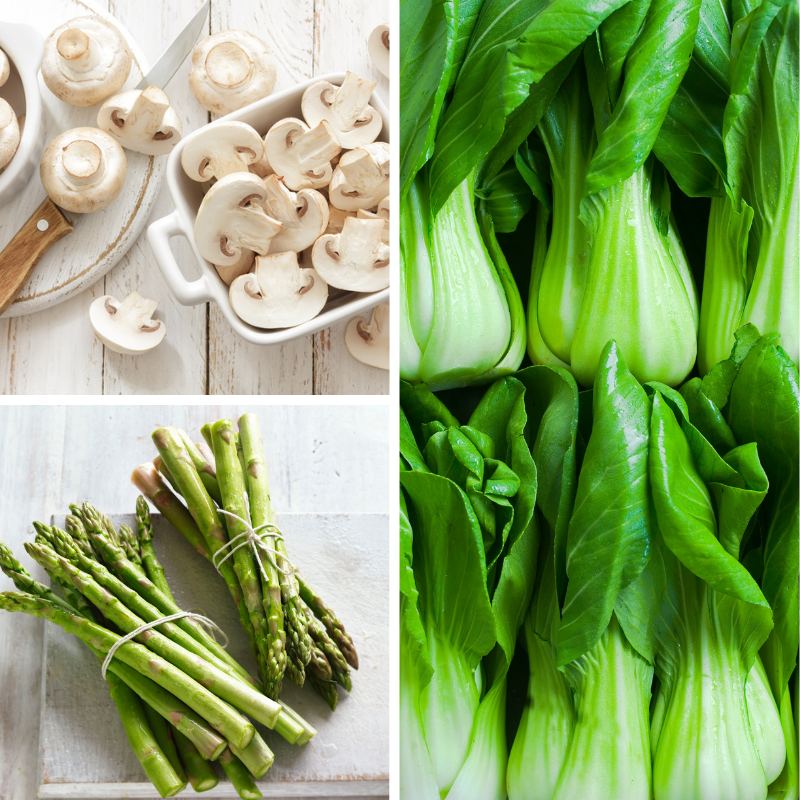 Select bunches of healthy and mild-tasting bok choy this week, as prices are as cheap as $.50-$2.50, served steamed or stir-fried; this leafy green is a versatile ingredient.
Spring is the peak season for Australian-grown asparagus. Easy to prepare, fresh asparagus is no fuss, nutritious vegetable! Tender and loaded with flavour, fresh asparagus is only $1.50-$3 a bunch. Whip up a side dish: Brush asparagus with oil and barbecue, turning often, over medium-high heat for 2 minutes or until tender. Top with shaved parmesan, drizzle with extra virgin olive oil and serve.
New-season beetroot is sweet and tender. Expect to pay $1.50-$3 a bunch. Toss whole baby beets in olive oil and roast for about 1 hour or until tender. Beetroot teams deliciously with flavours such as orange, onions, lemon, garlic, dill, mint, ginger, cinnamon, honey and cumin.
Crispy iceberg lettuce is a popular salad green; however, it is also ideal for use as a lunch wrap for a tasty filling or use the crunchy cups for a San Choy Bau. Icebergs are currently coming from Sydney growers, Queensland and Victoria, so prices are $1.50-$2.50 each. Try this tasty salad Iceberg lettuce, cucumber, bacon & egg salad.
Broccoli is an excellent source of vitamins A and C. To retain maximum flavour and nutrition, cook broccoli lightly. Broccoli sprigs are lovely blanched and served with dips. Broccoli is $4-$5 a kilo.
Versatile eggplant is a good value. Roast a tray of diced eggplant, red onion and sliced garlic to add to salads. Depending on how the eggplants were grown ie field or glasshouse, prices will range from $3-$7 a kilo.
Crisp, tender, naturally sweet snow peas are $8-$10 a kilo. The smaller pods are the most tender.
Mushrooms are a healthy and versatile all-rounder. Serve up oven-roasted tomatoes with mushrooms & scrambled. Button mushrooms are $6-$10 a kilo.
There is no excuse for serving a boring salad this spring. Try peppery-flavoured watercress teamed with avocado, crispy bacon and a yoghurt dressing. Watercress is only $2-$3 a bunch and is a powerhouse of nutrients, including iron, beta carotene, B vitamins C and E. Try this asparagus, watercress & blood orange chicken salad.
Premium quality Lebanese cucumbers are $2-$3 a kilo. Whip up a fresh and tasty cucumber, garlic & yoghurt dip to serve with lamb or chicken.
Silverbeet, with its large, deep green leaves and thick white stems, is a bargain at $1.50-$2.50 a bunch. Cooked silverbeet leaves are a tasty addition to a frittata, vegetable lasagna or ricotta gnocchi.
Be sure to snap up zucchinis at $2-$4 a kilo. For something different, slice and marinate in soy sauce and grill at your next barbecue. Zucchinis are ideal for a stir-fry, are delicious grated to make grated and added to fritters or a frittata and make a tasty addition to a cake batter.
When was the last time you cooked with fresh green peas? Once picked, green peas rapidly lose their sweetness, so cook them within a day of purchase. Choose vibrant small to medium-sized, plump green peas that are not hard and bulging. Remove the peas from the pods and cook rapidly to retain their fresh flavour and colour. Fresh peas are retailing at $6-$8 a kilo.
With an increase in supply Jap pumpkin prices are easing. Expect to pay $1-$2 a kilo if purchasing a whole pumpkin; prices can double if purchasing a half or a wedge. Dice pumpkin and roast until tender. Add warm or cold pumpkin to a salad.
FLOWERS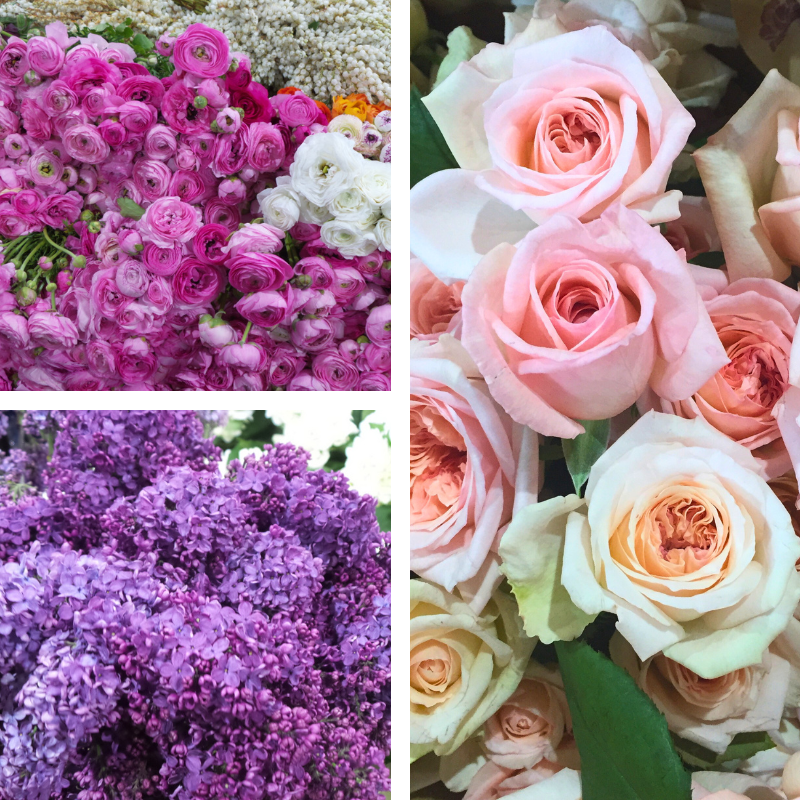 Your floral retailer has a fabulous range of spring blooms available in October, of particular note lookout, chincherinchee, fragrant lilies, lisianthus, queen Anne's lace, ranunculus, buddleia, lotus pods, snowballs, lilac, lily of the valley, stunning local roses -including the classic David Austin roses, daisies, gerberas, delphinium and early hydrangeas. TIP: To maximise the vase life of fresh flowers, use a floral preservative in the water. Most flower retailers provide a floral preservative with flowers.
Please note that the prices quoted in this report only apply for the current week and are subject to variation based on product variety, size, quality, and the trading area. For more information, please feel free to contact Sue Dodd, Marketing Consultant, at 0438725453
---
Published On 2023-10-04 09:07:00
Print Page