Iceberg lettuce, cucumber, bacon & egg salad
Iceberg lettuce, cucumber, bacon & egg salad
Prep 15 mins + chilling time | Cook 10 mins | Serves 4
1 medium Iceberg lettuce
3 free-range eggs, at room temperature
175g short-cut bacon, thinly sliced
1/3 cup pepita seeds
2 Lebanese cucumbers, sliced lengthways into thin ribbons
Creamy chive & dill dressing:
2 tbs finely chopped chives
1 tbs finely chopped dill leaves
1/3 cup whole egg mayonnaise
1/3 cup reduced fat sour cream
2 tsp Dijon mustard
1 tsp finely grated lemon zest
* Pepitas are crunchy pumpkin seeds with the husks removed – they're sold in some greengrocers and supermarkets.
Step 1 Wrap lettuce in a clean tea towel and lightly shake then place in a plastic bag and chill for 1 hour.
Step 2 To make the dressing, combine all ingredients in a small bowl. Season with salt and pepper to taste. Stir until well combined. Chill until ready to serve.
Step 3 Place the eggs in a small saucepan of water, bring to the boil over medium-high heat, reduce heat and gently boil for 7 minutes. Refresh in cold water then peel.
Step 4 Meanwhile, heat a medium frying pan over medium-high heat. Add bacon and cook, stirring often, for 4-5 minutes until crisp. Drain on paper towel. Chop eggs and place into a bowl. Add bacon and pepita seeds and gently toss to combine.
Step 5 Just before serving, cut the chilled lettuce into bite-sized wedges. Arrange on a serving platter. Top with bacon mixture and cucumber ribbons. Drizzle with dressing and serve.
Good for you ...
Iceberg Lettuce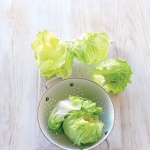 Provides folate, a B vitamin that is needed for normal formation of blood and contributes to growth and development in children.
Darker outside leaves provide beta carotene, which the body converts to vitamin A. Along with the small contribution of vitamin C, these vitamins help with the normal functioning of the body's immune system.