Eggplant, tomato & coriander salad
Eggplant, tomato & coriander salad
Prep 30 mins + cooling time | Cook 25 mins | Serves 4-6 as a side dish
Excellent served with barbecued or roasted chicken, beef or lamb.
750g medium eggplants
1 red onion, cut into wedges
2 garlic cloves, finely chopped
Olive oil cooking spray
250g mini roma tomatoes, halved
1 cup coriander leaves, roughly chopped
1⁄2 cup mint leaves, chopped
100g Persian or marinated feta cheese, roughly crumbled
2 tbs extra virgin olive oil
Step 1 Preheat oven to 200°C/180°C fan-forced. Trim eggplants and cut into 4–5cm pieces. Place eggplants, onion and garlic in a single layer on a large baking tray lined with baking paper. Spray liberally with oil and season with salt and pepper. Toss to combine. Bake for 20–25 minutes until tender. Remove from heat. Set aside to cool slightly.
Step 2 Place cooled eggplant mixture, tomatoes, coriander, mint and feta into a bowl. Drizzle with oil and season with salt and pepper to taste. Toss to combine and serve.
Good for you ...
Eggplant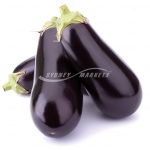 A good source of dietary fibre, which contributes to normal bowel function.
A good source of vitamin B6 that plays a role in hundreds of biochemical reactions in the body, including contributing to energy metabolism.
The purple skin is a rich source of antioxidants