Roast jap pumpkin salad with soy dressing
Roast jap pumpkin salad with soy dressing
Prep 30 mins | Cook 35 mins | Serves 6 as a side dish
This salad is great served with lamb, chicken or fish.
1 kg Jap pumpkin, cut into 5cm thick wedges, seeds removed
Olive oil cooking spray
75g mizuma or baby Asian salad leaves
2 green onions (shallots), trimmed and thinly sliced
2 tbs salad seed mix*
Soy dressing
1⁄4 cup grape seed or rice bran oil
2 tbs mirin
11⁄2 tbs salt-reduced soy sauce
* Salad seed mix is a nutritious packaged mix of pumpkin, sunflower and sesame seeds sold in most greengrocers.
Step 1 Preheat oven to 200°C/180°C fan-forced. Line the base of a large baking pan with baking paper. Arrange pumpkin skin-side down in pan. Liberally spray pumpkin with oil and season with salt and pepper. Roast, turning once, for 25-30 minutes until pumpkin is crisp at the edges and tender. Remove from oven. Set aside to cool slightly.
Step 2 To make soy dressing, combine all ingredients in a screw-top jar. Season with pepper to taste. Set aside.
Step 3 To serve, arrange pumpkin and mizuma or salad greens on a serving platter. Shake soy dressing until well combined and drizzle over salad. Sprinkle with green onions and salad seed mix and serve.
Good for you ...
Jap Pumpkin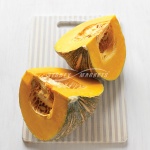 Provides beta carotene, converted to vitamin A in the body and needed for normal vision. The deeper the colour, the higher the content of beta carotene.
A source of vitamin C, which contributes to the normal functioning of the body's immune system.
Provides folate, a B vitamin that is necessary for formation of normal blood cells.