6 - 12 November 2023 update Sydney Market that includes availability and price of seasonal fruits, vegetables and flowers. Also includes recipe suggestions.
---
FRUITS: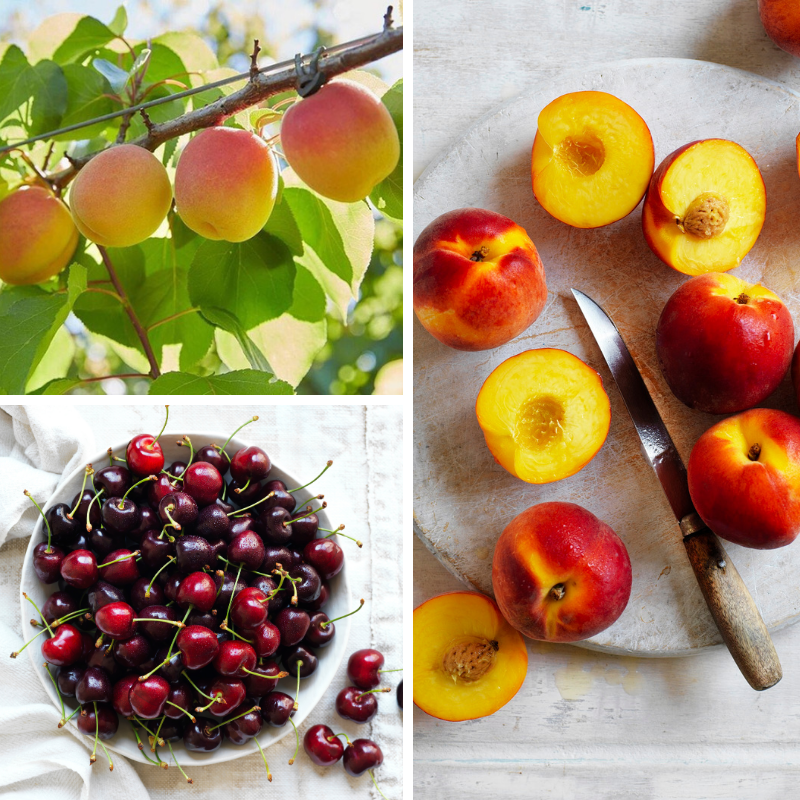 Explore a variety of berries, including strawberries, blueberries, blackberries and raspberries, with prices ranging from $3 to $7 per punnet, depending on variety and size. The Super Jumbo blueberries (the size of a 20-cent piece) are deliciously crunchy. Fresh berries offer a delectable mix of flavours and are rich in vitamins and antioxidants.
Renowned for exceptional sweetness and vibrant orange flesh, Candy melons have a texture similar to honeydew melons that is crisp and juicy. Visit your local greengrocer this week to find a golden-rind Candy melon, available at prices ranging from $4 to $6 each. Also, the good news is watermelon prices have eased and whole melons are now available for $1.50-$3 a kilo.
Yellow and white-fleshed peaches and nectarines are now available at your local greengrocer. When selecting your fruit, be sure to choose fruit with a strong, fragrant aroma. Prices for these fruits can vary from $4 to $18 per kilo, depending on variety, size, and eating quality.
From November until January, Aussie-grown apricots will be in season. With golden velvety skin, moist and mealy texture, and sweet yet tangy flavour, apricots are a delightful seasonal treat. The apricot season has just begun, and you can expect to find them priced between $5 and $20 per kilo, with variations based on size and variety.
Mangoes are consistently improving, and this week, they're offering exceptional quality and flavour. With summer fast approaching, it's the perfect time to savour these beautiful fruits from your local greengrocer. Whether you enjoy them as a fruity snack, blend them into smoothies, dice for a spicy salsa, whip up a tropical dessert, or use them to add a touch of sweetness to salad, mangoes are versatile and delicious. Depending on variety and size, mangoes are $3-$7 each.
It's time to start enjoying cherries. After a challenging 2022 cherry season marked by the impact of a severe La Niña, growers eagerly anticipate the upcoming 2023 season. As we transition into the season, larger and more robust cherry varieties will soon become available. December is the prime time for cherries, offering a diverse selection of flavours and textures. This week, cherries will range from $10-$30 a kilo—nine delicious ways to enjoy cherries.
VEGETABLES
When selecting asparagus, look for crisp spears with compact tips. The only preparation required is to trim off the woody base. To cook, gently simmer the asparagus in water or spray them with oil and char-grill, turning occasionally, for 2-3 minutes until they reach the desired tenderness. Asparagus is available for $1.50 to $3 per bunch.
Cucumber adds so much to a humble salad or sandwich, with a mild flavour. Our garlic & lemon prawns with cucumber salad is a super simple recipe to prepare for the family this week and is a tasty option for a quick dish! Lebanese cucumbers are $2-$4 a kilo; Telegraph cucumbers are $2-$3 and baby cucumbers are $3-$7, depending on punnet size.
Eggplant, with its deep purple skin and creamy flesh, is a versatile ingredient that offers many meal options. Its mild, slightly earthy flavour makes it the perfect canvas for a wide range of dishes, from savoury crumbled eggplant to smoky grilled dip. With its ability to absorb flavours, eggplant offers endless delicious possibilities. Pick up eggplant this week for $3-7$ a kilo.
The natural sweetness and their bright colour make capsicums a popular choice. Field-grown red and green capsicums are an excellent buy this week at $3-$7 a kilo. Red capsicum is a little firmer this week.
Most garlic sold in Australia is imported from China, Argentina, Mexico, America and New Zealand. About 5% is Australian grown and the good news is fresh Aussie garlic from the Riverina is now in season. Fresh and juicy with a sweet yet pungent flavour, this garlic sells for around $3 a bulb.
This week, look for Daikon radish, also known as white radish, priced at $2 to $3 each. Resembling a giant white carrot, this radish boasts a firm and crisp texture, complemented by a sweet and peppery flavour. While it's a traditional staple in Chinese, Korean, and Japanese cuisine, Daikon radish's culinary potential extends beyond these boundaries. You can explore its versatility by incorporating it into Asian-style soups, stir-fries, coleslaws, or even experimenting with roasting.
Celery adds crunch and flavour to a great range of salads and stir-fries, and its juicy flesh teams well with creamy dips. Choose crisp pale green celery with fresh-looking leaves. Pop a bunch to the trolley for $2-$3 each.
Asian leafy greens are quick to cook, versatile and super nutritious. Add them to your favourite stir-fry for only $1.50-$3 a bunch.
Tasty and nutritious broad beans are a bargain this week at $4-$8 a kilo. Choose firm, green broad beans with full but not over-bulging pods. Smaller, younger pods yield more tender beans. As a guide, 1 kg of broad beans yields about 1 cup (250g) of shelled beans—team broad beans with chicken, potatoes, feta and mint for a quick mid-week meal.
Zucchini is a choice buy at $3-$6 a kilo. Try slicing them in half lengthwise, score, then brush with a little olive oil and place on the barbecue or grill plate; cook, turning once until tender.
Multi-use kumara (orange sweet potato) is a top buy at $2-$4 a kilo, depending on tuber size. Kumara is delicious and served mashed, roasted, boiled, or baked. Try this kumara, bean & rocket salad. Alternatively, try white and purple sweet potatoes at $4-$5 a kilo.
Brown onions are a culinary essential known for their incredible value and versatility. Their affordability at $1.50-$3 a kilo and long shelf life make them a budget-friendly choice for adding depth to a wide range of dishes. Whether caramelised for a sweet richness, used as a flavourful base for soups and sauces, or sliced for a stir-fry, brown onions prove their worth in countless recipes. This kumara & caramelised onion tortilla is delicious and served hot or cold.
FLOWERS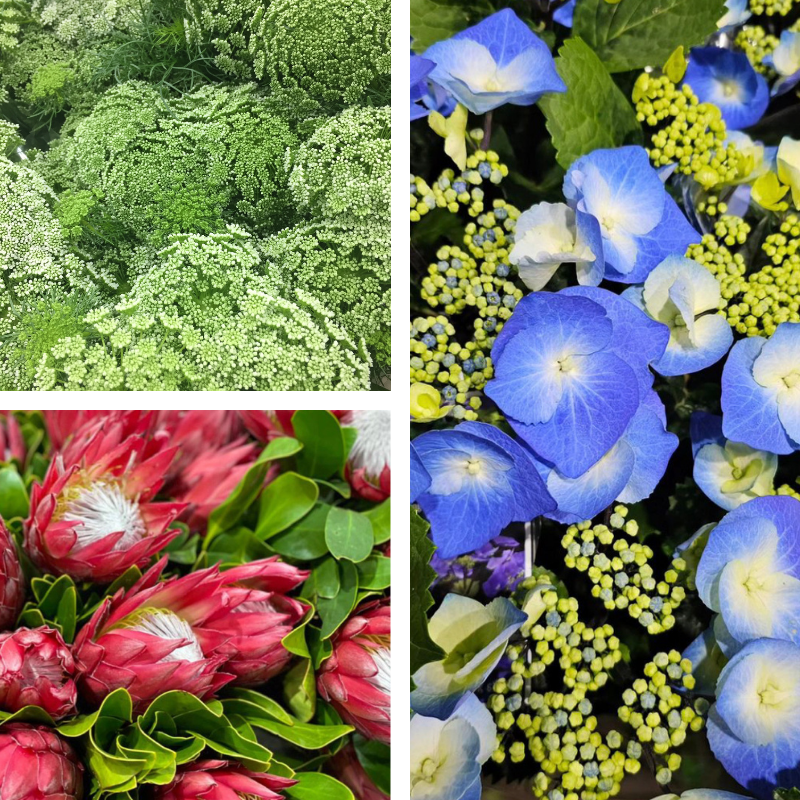 This week, I recommended the stunning peonies in white, blood red, soft pink and coral, as they are only available briefly; also in season are Oriental lilies, waratah, pink tea tree, David Austin roses, achilleas, artichoke flowers, crab claws, Queen Anne's lace, iris, hydrangeas, gerbera, king proteas, spider orchids, billy buttons, tulips and lisianthus.
Please note that the prices quoted in this report only apply for the current week and are subject to variation based on product variety, size, quality, and the trading area. For more information, please feel free to contact Sue Dodd, Marketing Consultant, at 0438725453
---
Published On 2023-11-07 09:45:00
Print Page