Kumara & caramelised onion tortilla
Kumara & caramelised onion tortilla
Prep 20 mins | Cook 50 mins | Serves 6-8
This delicious slice is perfect for the school lunch box.
⅓ cup olive oil
900g kumara (orange sweet potato), peeled and cut into 2-3cm pieces
1 brown onion, thinly sliced
2 tsp caster sugar
6 free-range eggs
Step 1 Preheat oven to 180°C/160°C fan-forced. Line a 16cm x 26cm slice pan with baking paper. Heat 2 tbs oil in a large deep frying pan over medium-high heat. Add kumara and cook, tossing often, for 10-15 minutes until golden and almost cooked. Spoon kumara into the slice pan. Set aside.
Step 2 Add onions and sugar to the frying pan and cook, stirring often, over medium heat for 10 minutes until golden. Toss onions with kumara. Set aside to cool.
Step 3 Whisk eggs in a bowl and season to taste. Pour eggs over kumara mixture. Bake for 25-30 minutes until set. Stand for 15 minutes. Slice and serve warm with a mixed salad or chill until ready to serve.
Good for you ...
Sweet Potato - Kumara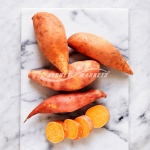 Like other orange coloured vegetables, kumara is rich in a range of carotenoids, including beta carotene, which the body converts to vitamin A (needed to for normal vision and the structure of our skin).
A good source of vitamin C, which is needed for the normal functioning of the immune system.
A good source of vitamin E, which helps protect cells from damaging free radicals
A source of dietary fibre which is needed for the normal functioning of the intestine.