Caramelised mangoes
Prep 15 mins | Cook 5 mins | Serves 4
A delicious quick dessert to enjoy when Australian-grown mangoes are in season!
4 medium just-ripe mangoes
1⁄3 cup macadamia nuts, chopped
2⁄3 cup brown sugar
Reduced fat vanilla ice-cream, to serve
Step 1 Heat a large non-stick frying pan over medium heat. Add macadamia nuts and cook, tossing often, until pale golden. Set aside. Slice cheeks from mangoes. Score flesh in a honeycomb pattern.
Step 2 Wipe the large non-stick frying pan with paper towel and place a sheet of baking paper on the base of the pan. Heat pan over medium-high heat until hot. Dip cut side of mangoes into brown sugar to thickly coat. Place sugar-side down into pan. Press gently and cook for 3–4 minutes until sugar caramelises. Transfer to a serving plate. Scatter with toasted macadamias. Drizzle with pan juices and serve with ice-cream.
Good for you ...
Mangoes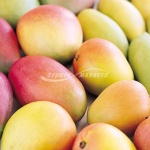 A very good source of vitamin C which contributes to the normal functioning of the body's immune system.
A good source of beta carotene, which the body converts to vitamin A. This vitamin is needed for normal vision. The deeper the colour of the mango flesh, the higher the level of beta carotene. Mango flesh also provides another carotenoid called cryptoxanthin which is being researched for its role in normal eye health.
A source of dietary fibre which is important for the normal function of the intestine.