Mango & chicken salad with minted yoghurt
Mango & chicken salad with minted yoghurt
Prep 20 mins | Cook 10 mins | Serves 4
1 tbs olive oil
2 chicken breast fillets, halved horizontally
150g snow peas, trimmed
2 just-ripe mangoes, peeled and sliced
1 green onion (shallot), thinly sliced
2 Lebanese cucumbers, halved lengthways and sliced
Crunchy fried noodles, to serve
Minted yoghurt
1⁄3 cup Greek-style reduced fat natural yoghurt
1 tbs lemon juice
1 tbs water
1 tbs finely chopped mint leaves
Step 1 Heat oil in a medium non-stick frying pan over medium heat. Add chicken and cook for 4-5 minutes on each side until golden and just cooked through. Drain on paper towel. Set aside to cool slightly.
Step 2 Blanch snow peas in a small saucepan of boiling water for 1 minute. Drain, refresh in cold water and pat dry with paper towel. Set aside. To make minted yoghurt, place ingredients into a bowl and season with salt and pepper to taste. Stir to combine.
Step 3 Combine snow peas, mangoes, green onion and cucumbers in a bowl. Shred chicken and add to mixture. Toss to combine. Spoon chicken salad into serving bowls, sprinkle with crunchy noodles. Serve with minted yoghurt.
Good for you ...
Mangoes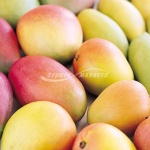 A very good source of vitamin C which contributes to the normal functioning of the body's immune system.
A good source of beta carotene, which the body converts to vitamin A. This vitamin is needed for normal vision. The deeper the colour of the mango flesh, the higher the level of beta carotene. Mango flesh also provides another carotenoid called cryptoxanthin which is being researched for its role in normal eye health.
A source of dietary fibre which is important for the normal function of the intestine.