Mango & blueberry smoothie
Mango & blueberry smoothie
Prep 5 mins | Makes 2 large or 4 small smoothies
1 ripe mango
125g blueberries
11⁄2 cups reduced fat milk
1⁄2 cup reduced fat mango yoghurt
1⁄2 cup ice-cubes
Slice off the mango cheeks. Peel and roughly chop the flesh. Place mango into a food processor. Add blueberries, milk, yoghurt and ice. Blend until smooth. Pour into serving glasses and serve.
Good for you ...
Blueberries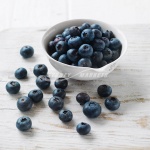 A good source of vitamin C which contributes to the normal functioning of the body's immune system.
Provide vitamin E, an antioxidant vitamin that helps protect cells from damage due to free radicals.
A source of dietary fibre, which is important for the normal functioning of the intestine.
The natural purple pigments are antioxidants and may boost the body's level of these compounds.