18 - 24 September 2023 update Sydney Market that includes availability and price of seasonal fruits, vegetables and flowers. Also includes recipe suggestions.
---
FRUITS: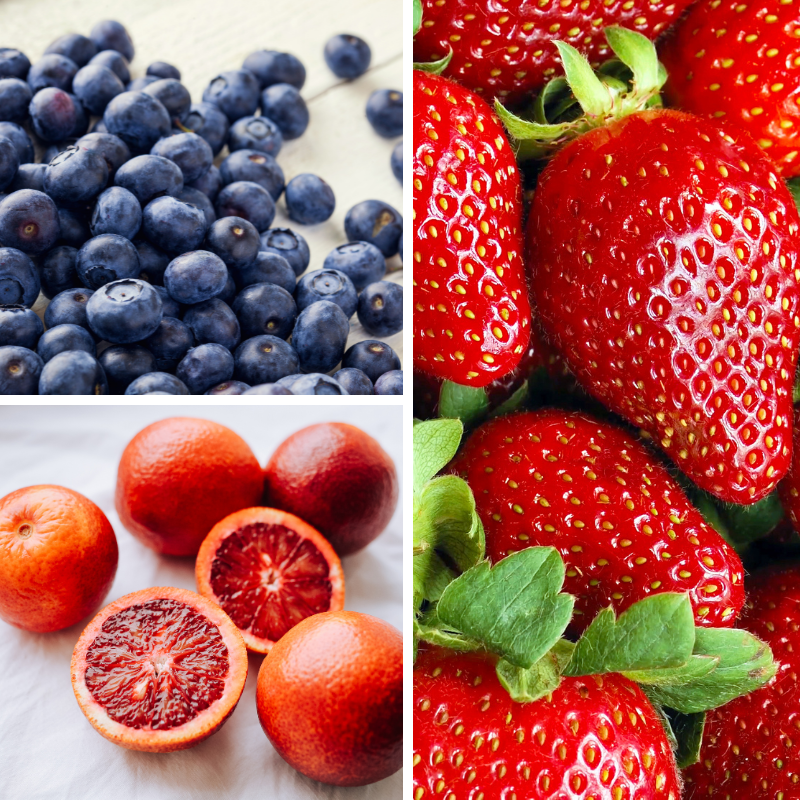 Enhance your weekly shopping list with a punnet of delicious and nutritious blueberries. You can savour them as a wholesome snack, sprinkle a handful into your morning cereal, or elevate the freshness of your spring salad. Standard blueberries are a savvy buy this week at $2-$3 a punnet; jumbo blueberries are $4-$5 a punnet and super jumbo (the size of a $2 coin) are $10 for 250g.
Indulge in the abundance of delectable Queensland strawberries, still available at the unbeatable price of $1.50 to $3 per punnet. Don't miss the opportunity to relish several punnets this week while the season is at its peak.
Enjoy mangoes this week at $3-$7 each; they are a delicious choice for breakfast. Try our mango, berry & chia overnight oats – it's a delicious and healthy make-a-head breakfast topped with spring fruits, honey and yoghurt.
Discover the enchanting allure of blood oranges, a citrus gem still in season. With their striking crimson flesh and sweet and tangy flavour, these oranges are a delightful addition to your spring fruit and savoury salads. Blood oranges are available at your local greengrocer for $2-$6 a kilo.
Enjoy in the creamy luxury of Hass avocados – a versatile, nutrient-packed addition to elevate your culinary creations. Their rich, buttery texture promises a delightful twist to every meal. Depending on size, avocados are 70C-$3 each.
Savour the sweetness of tangelos, available for just a few more weeks. These vibrant, easy-to-peel citrus delights, with 12 juicy segments, are ideal for juicing or a wholesome snack. Depending on size, tangelo prices range from $2 to $6 per kilo.
When allowed to ripen to a vibrant red colour at room temperature, Queensland-grown salad tomatoes have fantastic flavour. Remember not to refrigerate tomatoes; you destroy the enzyme that helps them develop their taste. Salad tomatoes are $2-$6, Truss Tomatoes $3-$6 a kilo. Grape and cherry tomatoes are $2-$4 a punnet.
VEGETABLES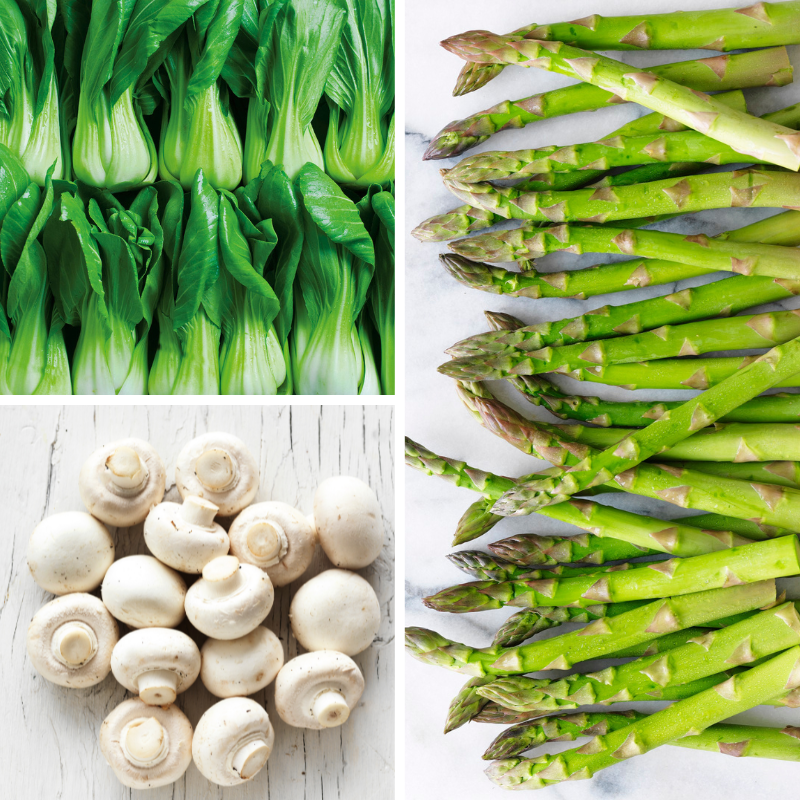 Enjoy the delightful flavours of Victorian asparagus, which currently offers excellent value and premium quality. Whether you opt for thick or thin spears, rest assured they are equally tender. Asparagus prices range from $2.50 -$3 per bunch, depending on the thickness and size of the bunch.
Take a fresh look at vibrant, purplish-red leafy red cabbage; it is delicious, finely shredded and added to spring salads. A whole red cabbage is $3-$5; however, most greengrocers sell them by the half for $2-$2.50.
You can fill up a brown paper bag with mushrooms for $6-$12 a kilo. Mushrooms are perfect to have on hand to add to pasta dishes and salads, and they are terrific barbecued. Try our tasty mushrooms with bacon & pine nut crumbs.
Eggplants are incredibly versatile and a great buy at $3-7 a kilo, use them to make delicious dishes, including:

Eggplant Schnitzel: Slices of eggplant are breaded and fried, a healthy meat-free option.

Eggplant Dip: A Middle Eastern dip made from roasted eggplant, tahini, garlic, lemon juice, and olive oil.

Eggplant Curry: Add cubed eggplant to your favourite curry for a hearty and flavourful vegetarian dish.

With its crisp and crunchy texture, Iceberg lettuce remains a treasured choice for salads and sandwiches among families. As the weather brightens, there's no better way to enjoy a healthy and satisfying lettuce salad topped with your favourite homemade salad dressings. Iceberg lettuce is $1.50-$3 ahead.
Broccoli offers a delightful versatility, whether it's for salads, roasts, or even a unique twist like adding it to muffins or fritters. Broccoli is excellent quality again this week at $3-$4 a kilo.
Green onions (also known as shallots) are plentiful and top value at $1-$2 a bunch, depending on size and quality. Use the sliced crunchy bulbs in Asian dishes and salads, and they are ideal as a substitute for leeks in any recipe.
Take a fresh look at the vibrant green goodness of English Spinach, now in season. This versatile leafy delight adds a burst of freshness to your dishes and provides a healthy dose of vitamins and minerals. Explore the possibilities of seasonal cooking with this nutritious gem; it's a bargain at $1.50-$2 a bunch.
Opt for crisp, vibrant green snow peas and sugar snap peas. Snap off the tops and remove the side strings before quickly cooking or blanching. Add to spring salads or stir-fries. With exceptional quality and affordability at $7 to $10 per kilo, they're a wise choice.
Packed with fresh produce, stir-fries make ideal meals for the busy family. Whip up a speedy dinner by combining a mix of Asian leafy greens such as buk choy and choy sum with marinated beef or chicken. Asian greens are priced at just $1.50 -$3 per bunch, making this a wallet-friendly choice for a fast and delicious meal.
FLOWERS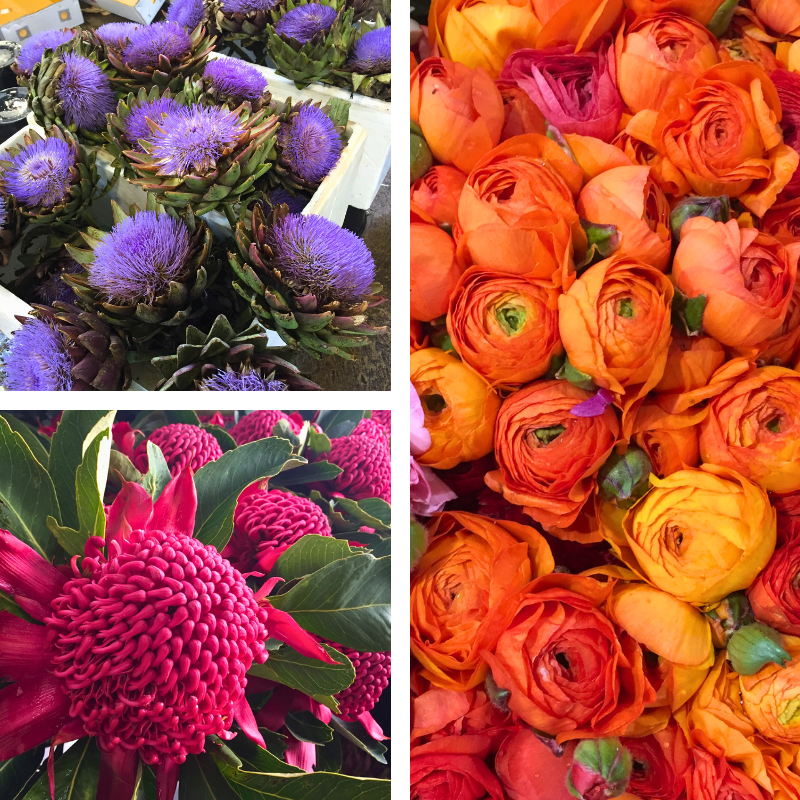 Favourable spring weather has brought on a flush for quality blooms. This week, you will discover stunning bunches, flowering artichokes, red waratahs, poppies, king protea, lilac, stock, lilies, tulips, ranunculus, hyacinth, daffodils, snapdragons, flowering blossom, Geraldton wax, stock, double mini gerbera, proteas, daisies and purple iris.
Please note that the prices quoted in this report only apply for the current week and are subject to variation based on product variety, size, quality, and the trading area. For more information, please feel free to contact Sue Dodd, Marketing Consultant, at 0438725453
---
Published On 2023-09-12 11:24:00
Print Page