How to Make a Delicious Eggplant Schnitzels - Sydney Markets
Prep 20 mins | Cook 10 mins | Serves 4
1/3 cup plain flour
2 free-range eggs, lightly beaten
2 cups panko breadcrumbs
1/3 cup grated parmesan
2 plump (about 400g each) eggplants, trimmed and cut lengthways into 1cm thick slices
Olive or canola oil, for shallow frying
Kewpie mayonnaise, mixed salad and lemon wedges, to serve
Step 1 Place flour into a shallow bowl. Whisk eggs in a shallow bowl. Combine breadcrumbs and parmesan in another shallow bowl.
Step 2 Dip eggplant into flour, then egg and coat in breadcrumb mixture, pressing breadcrumbs into eggplant.
Step 3 Heat 1cm oil in a large frying pan over medium heat. Fry eggplant, in batches, for 3-4 minutes on each side until golden. Drain on paper towel.
Step 4 Arrange eggplant schnitzels on a serving plate. Drizzle with mayonnaise and serve with a mixed salad and lemon wedges.
Good for you ...
Eggplant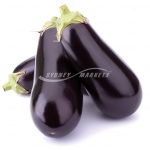 A good source of dietary fibre, which contributes to normal bowel function.
A good source of vitamin B6 that plays a role in hundreds of biochemical reactions in the body, including contributing to energy metabolism.
The purple skin is a rich source of antioxidants