Eggplant, zucchini, lime & chicken curry
Eggplant, zucchini, lime & chicken curry
Prep 25 mins | Cook 35 mins | Serves 4
1 tbs peanut oil
2 stems lemongrass, trimmed, crushed and chopped
3-4 tbs (to your taste) green curry paste
1 cup reduced fat coconut milk
2⁄3 cup chicken stock
500g chicken thighs fillets, cut into bite-sized pieces
1 medium (about 450g) eggplant, trimmed and roughly chopped
2 zucchini (about 220g), cut into 2cm pieces
3 green onions (shallots), trimmed and sliced
1 tbs fish sauce
1 tbs lime juice
2 kaffir lime leaves, shredded (optional)
1⁄2 cup coriander leaves, roughly chopped
To serve
Extra coriander leaves, sliced red chilli and green onions and steamed jasmine rice
Step 1 Heat oil in a large saucepan over medium-high heat. Add lemongrass and cook for 30 seconds until fragrant. Stir in curry paste and cook, stirring, for 1 minute.
Step 2 Stir in coconut milk and stock. Bring almost to the boil, stirring often, over medium heat. Add chicken, eggplant, zucchini and green onions. Reduce heat, cover and simmer, stirring occasionally, for 15-20 minutes until vegetables are tender. Stir in fish sauce, lime juice, kaffir lime leaves (if using) and chopped coriander.
Step 3 Serve with extra coriander leaves, sliced red chilli, green onions and steamed jasmine rice.
Good for you ...
Zucchini Flowers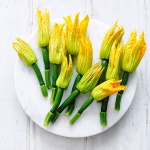 Zucchini are a source of vitamin C. This vitamin is important for healthy gums and also helps the body fight infections. Dark green varieties contribute some beta carotene, an antioxidant pigment which the body can convert to vitamin A.