3 - 8 October 2023 update Sydney Market that includes availability and price of seasonal fruits, vegetables and flowers. Also includes recipe suggestions.
---
FRUITS: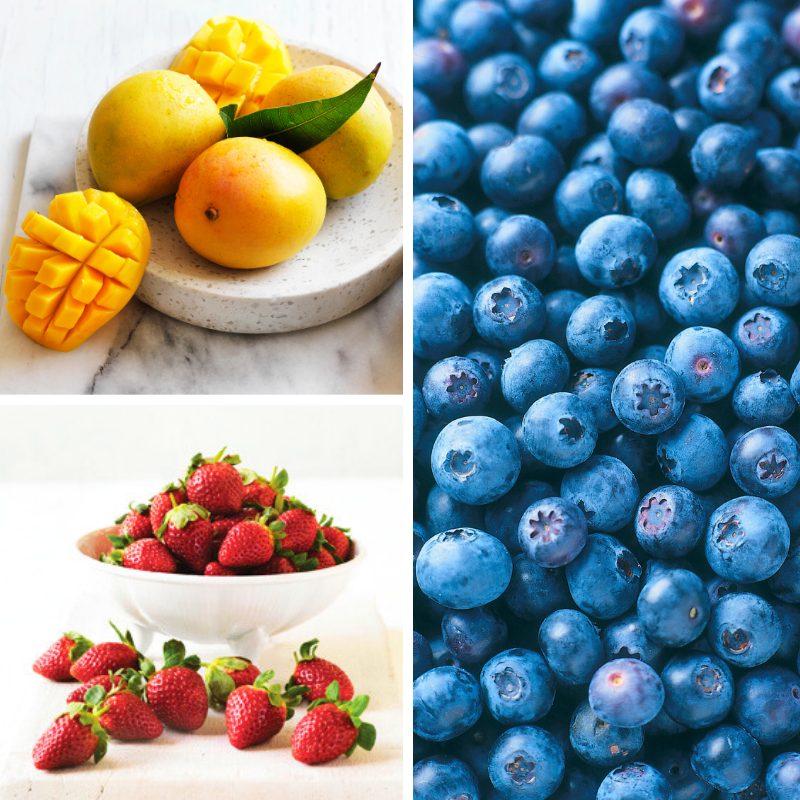 Dive into the tropical goodness of Kensington Pride mangoes , Australia's favourite, now available for just $2-$6 each. Also, check out R2E2R2E2 ($4-$6 each) and TPP and Nam Doc Ma varieties ($6-$10 per kilo). To enjoy them at their best, ripen mangoes at room temperature until they yield gently to pressure around the stem.
Coffs Harbour blueberries are a top pick this week, with standard punnets priced at $2-$3 and jumbo sizes up to $5 per punnet. Whip up a five-ingredient mango & blueberry smoothie.
Enjoy delicious strawberries from Queensland, Victoria, and Western Australia at great prices, ranging from $1-$4 per punnet.
Indulge in the healthy goodness of tropical papaya from Far North Queensland, available for $4-$7 per kilo. Look for a fragrant aroma as a sign of great flavour.
Late-season mandarins, including Imperial, Afourer, Murcott, and Sumo's, are coming to an end in the next 2-3 weeks, so grab them while you can.
Start your day with smacked avocado on toast, topped with sliced tomato. Hass avocados are available for $1-$3 each and provide an excellent range of nutrients.
Supplies of Queensland rockmelons are increasing, and fruit is eating better as the weather warms up. Rockmelons are selling for $3-$7 each, depending on size. Select firm rockmelons with a sweet aroma that feel heavy for their size. Fruit should be beige to golden coloured (not green) with a pronounced netting pattern on the skin.
Tomatoes supplies are slowly increasing as the weather warms up. This week tomatoes will range in price from $3-$6 a kilo, depending on variety and size. Small punnet tomatoes are $1.50-$3 a punnet, depending on variety and punnet size.
VEGETABLES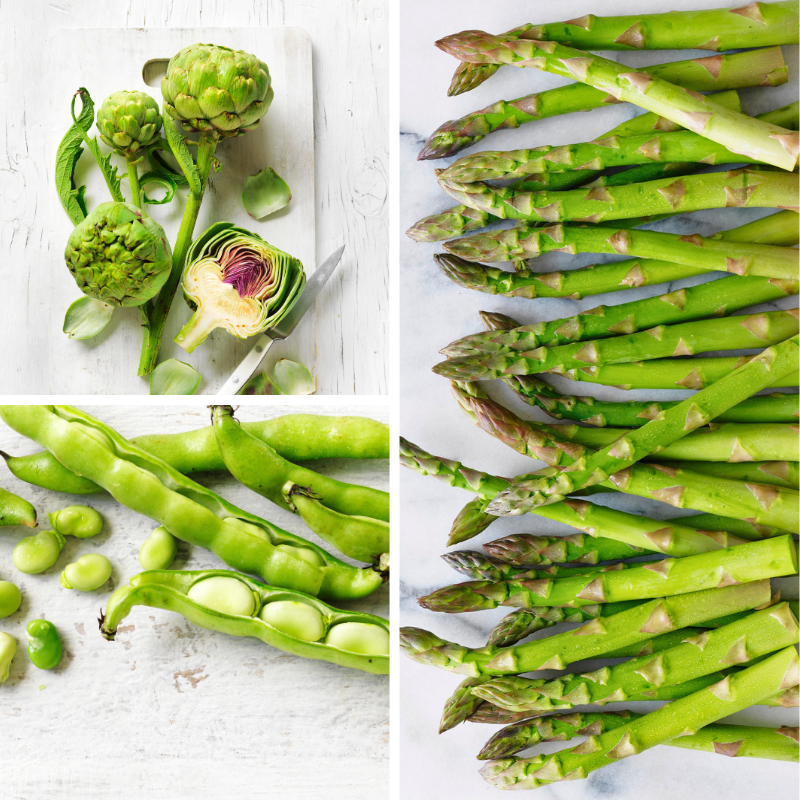 Snap up premium quality Australian asparagus at bargain prices. Asparagus is plentiful and cheap at $1-$3. Vibrant green with a delicious nutty flavour, asparagus is delicious and served hot or cold.
Flavoursome spring broad beans are good value at $3-$5 a kilo. Remove the bean from the pod, shell it a second time, then simmer in boiling water until just tender. Broad beans team superbly with lamb, mushrooms, and artichokes, or add them to a salad or risotto. Try this broad bean, spinach & lamb salad.
Queensland capsicums are plentiful and offer vibrant colours to brighten up your meals. Red and green capsicums are available for $3-$6 per kilo, while sunny yellow capsicums are priced at $4-$6 per kilo. Try this colour and tasty salad.
Crisp, tender and naturally sweet snow peas are a great addition to spring meals at $6-$10 a kilo. The smaller pods are the most tender. Try this low-fat spring greens & chicken salad; the snow peas add a lovely texture and flavour.
Versatile eggplant is a good value. Field-grown eggplants are $3-$6 a kilo, and premium, glasshouse-grown eggplants are $5-$8 a kilo. Roasted up a tray of diced eggplant, diced red onion and sliced garlic to add to salads.
Broccoli is a nutrient powerhouse, priced at $3-$5 per kilo. Cook lightly to retain maximum flavour and nutrition. Broccoli sprigs can be blanched for dips or added to salads.
Put crisp, healthy salads back on the menu. Extra crunchy Cos lettuces and Icebergs are $2-$3 ahead. Supplies are coming from Victoria, Queensland and Sydney basin.
At $2-$4 a kilo, crisp and refreshing Lebanese cucumber is perfect for adding to a spicy salsa mix or team cucumber with diced tomatoes and coriander for a salad.
Zucchinis are a good buy this week, and $2-$5 a kilo. Mild in flavour and highly versatile, zucchini is colourful, low carb, gluten-free and contains fibre. Create fresh zucchini pasta-like noodles by thinly slicing zucchini or use a spiralizer and enjoy this fast-cooking tuna and chilli pasta dish in minutes.
Fresh spring beetroot is delectable. Cut into fine julienne strips and sprinkle over a salad just before serving to add vibrant colour, sweet flavour and a crunchy texture. Beetroot is excellent value at $2-$3 a bunch.
Grab globe artichokes before the season ends, priced at $1-$2 each and baby artichokes at $4-$5 per kilo. Enjoy their tender hearts drizzled with olive oil and served with prosciutto, tomato, and bocconcini cheese.
Sweet potato is a thrifty purchase; orange-fleshed sweet potato, also known as kumara, is good value at $2-$3 a kilo, depending on size. Sweeter-eating white and purple-fleshed varieties sell for $3-$4 a kilo. Delicious mashed, diced and roasted or baked. Mix it up and enjoy low-GI sweet potatoes.
Versatile and mild-tasting English spinach is tasty, eaten cooked or raw, and this week is a bargain at $1-$2 a bunch. Blend English spinach with cashews, tahini, lemon juice and garlic to create a delicious healthy dip.
FLOWERS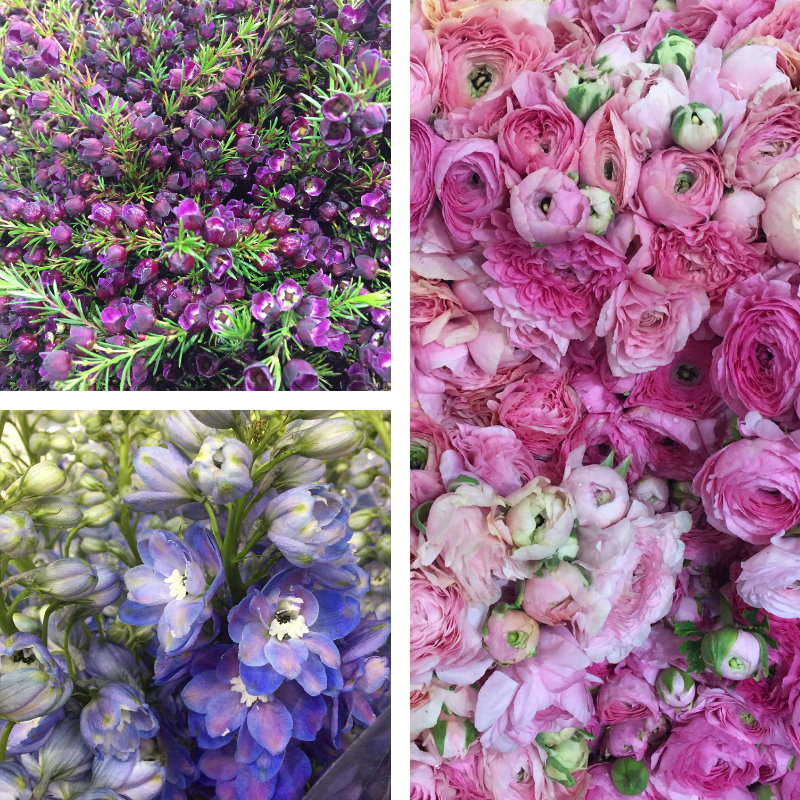 When it comes to fragrance, you can't go past lilac, lilies, lily of the valley, boronia and stunning local roses. Other seasonal buys include ranunculus, cornflowers, waratahs, canterbury bells, king protea, cymbidium orchids, hellebores, arum lilies, anemones, chincherinchee, lisianthus, Queen Anne's lace, buddleia, poppies, buddleia, snowballs, daisies, gerberas and delphinium.
Please note that the prices quoted in this report only apply for the current week and are subject to variation based on product variety, size, quality, and the trading area. For more information, please feel free to contact Sue Dodd, Marketing Consultant, at 0438725453
---
Published On 2023-10-04 09:07:00
Print Page