Zucchini 'spaghetti' with chilli, tuna & feta
Zucchini 'spaghetti' with chilli, tuna & feta
Prep 20 mins | Cook 5 mins | Serves 4
This light meatless meal is delicious – and no carbs!
800 g zucchini
2 tbs olive oil
2 garlic cloves, finely chopped
1 long red chilli, seeded and thinly sliced
2 tbs mini capers, drained
2 tbs lemon juice
425g can tuna in oil, drained and roughly flaked
75g feta cheese, crumbled
Lemon wedges, to serve
Step 1 Cut zucchini into 'spaghetti' using a julienne peeler or spiraliser*. Set aside.
Step 2 Heat oil in a large non-stick frying pan over medium heat. Add garlic, chilli and capers and cook, stirring, for 1 minute.
Step 3 Add zucchini and lemon juice and cook, tossing occasionally, until heated through. Toss in tuna and feta. Season with salt and pepper to taste. Serve with lemon wedges
*A julienne peeler looks like a wide-bladed vegetable peeler. A spiraliser is a hand-cranked machine designed to cut vegetables into noodles. Both items are available at kitchenware shops.
Good for you ...
Zucchini Flowers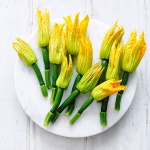 Zucchini are a source of vitamin C. This vitamin is important for healthy gums and also helps the body fight infections. Dark green varieties contribute some beta carotene, an antioxidant pigment which the body can convert to vitamin A.