Low-fat spring greens & chicken salad
Low-fat spring greens & chicken salad
Prep 20 mins | Cook 5 mins + standing time | Serves 4
600g free-range chicken tenderloins, trimmed
2 cups chicken stock
150g sugar snap peas, trimmed
150g snow peas, trimmed
2 bunches baby asparagus, trimmed
2 green onions (shallots), trimmed and thinly sliced
6 green oakleaf or butter lettuce leaves, torn
Mint & Dill Yogurt Dressing
2 tbs low fat Greek style natural yoghurt
2 tbs lemon juice
1 tsp Dijon mustard
2 tbs mint leaves, finely chopped
1 tbs dill leaves, finely chopped
STEP 1 Place chicken and stock into a large frying pan. Bring to the boil over medium heat, turning occasionally. Reduce heat and simmer for 3 minutes. Turn off heat, cover and set chicken aside in pan for 10 minutes or until cooked through. Drain and cool for 10 minutes then shred chicken.
STEP 2 Meanwhile, bring a saucepan of water to the boil over high heat. Plunge sugar snap peas, snow peas and asparagus into pan. Boil for 1 minute. Drain, refresh in cold water and dry on paper towel. Combine vegetables, green onions and chicken in a bowl. Gently toss and place into a serving bowl or plates.
STEP 3 To make the dressing, place all ingredients in a bowl. Season with salt and pepper. Mix until well combined. Drizzle salad with dressing and serve.
Good for you ...
Snow Peas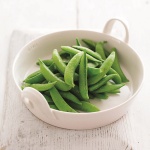 A good source of vitamin C, which contributes to the normal functioning of the body's immune system.
Provide dietary fibre, which is needed for normal laxation.
Provide niacin (Vitamin B3) which is needed for the normal release of energy from food.
A source of potassium, which may help balance the adverse effects of sodium from salt.