13 - 19 November 2023 update Sydney Market that includes availability and price of seasonal fruits, vegetables and flowers. Also includes recipe suggestions.
---
FRUITS: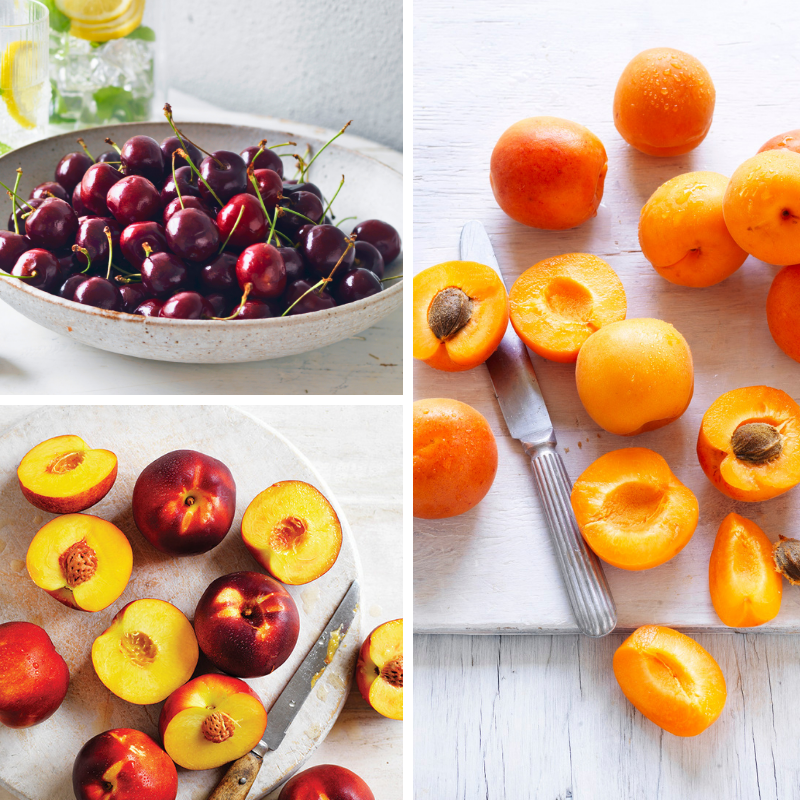 Fine weather is producing an excellent start to the cherry season. Depending on variety, size and quality, cherries prices will range from $7-$30 a kilo. Cherries are at their very best from late spring until mid-summer. Select plump, very shiny cherries with green stems. Store in a vegetable bag in the fridge and wash just before eating.
It's a fabulous time of year to enjoy sweet and healthy berries. Most standard punnet sizes of blueberries, raspberries, blackberries and strawberries will be $2-$4 a punnet, with the jumbo size blueberries and strawberries selling for $4-$8 a punnet or plate.
This week brings an array of delicious mango options: Kensington Pride, R2E2, Lady Jane and Calypso. Indulge in their rich flavours, each priced between $3 and $6. Consider saving this delightful mango and white chocolate cheesecake for Christmas or an upcoming weekend treat.
Aromatic and succulent peaches or nectarines are simply irresistible. Both yellow and white flesh types from regions like North Coast NSW, Peats Ridge (Hawkesbury area), South Australia, and Victoria are currently available at your local greengrocer. Prices vary from $4 to $12 per kilo, depending on size and type. Try these delightful roasted peaches with pistachio crumble recipe before the weather warms up too much to use the oven.
Australian-grown apricots will be in season from now until January. Fresh, ripe apricots offer a juicy, sweet-tart taste. To ripen, if they're a bit unripe, place them in a paper bag at room temperature for one to two days. Fully ripe apricots should be enjoyed right away. Apricots are selling for prices between $6 and $15 per kilo.
VEGETABLES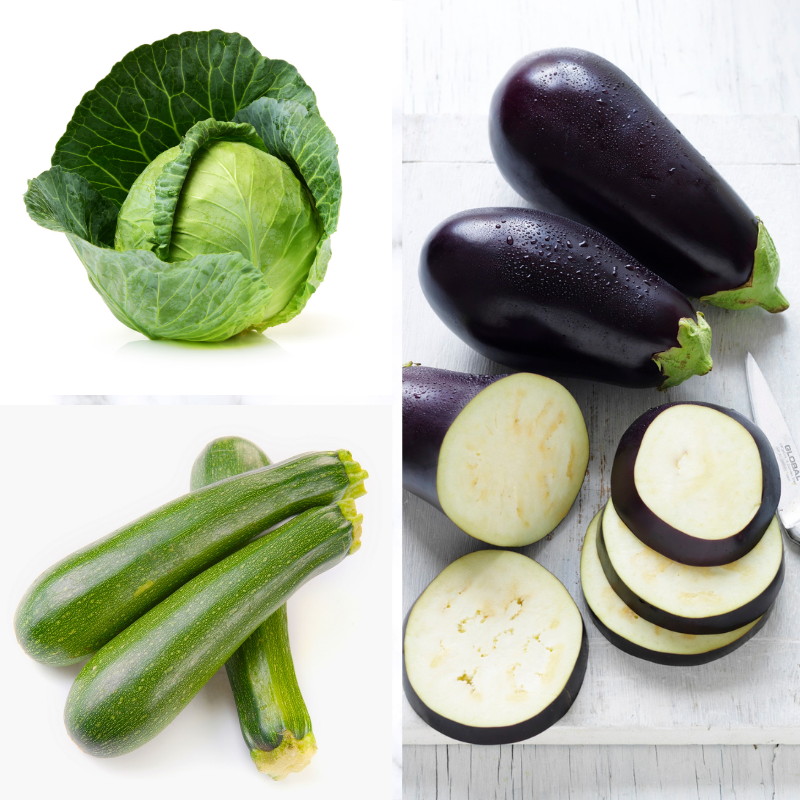 Fresh asparagus is a true champion when it comes to value, taste, and versatility. Its subtle nutty taste is delightful in hot or cold dishes, whether raw or cooked. Aussie asparagus pairs wonderfully with veal, pasta, seafood, prosciutto, chicken, and steak. This top-quality vegetable, priced at $2 to $3 per bunch, sits at the top of my favourites list.
Tender, juicy and full of flavour, Lebanese cucumbers are a top buy at $3-$4 a kilo. Combine diced cucumber with ripe oxheart or medley tomatoes, olives, thinly sliced onion and feta cheese to make a traditional Greek salad.
Zucchini, known for its mild flavour, is exceptionally versatile and a savvy purchase at $3 to $5 per kilo.
Eggplants can absorb flavours, especially when paired with ingredients like tomato, garlic, spices and basil. Grilling glossy black-skinned eggplants cook them and infuses a delightful smoky taste. Prices for eggplants range from $3 to $6 per kilo, depending on whether they're field-grown or a premium glass-house variety.
Brimming with their natural sweetness, red and green capsicums are a fantastic buy at $3-$6 a kilo. Slice them thinly or chop them to add vibrant colour and a sweet crunch to salads. Roast or grill capsicums to bring out their natural sweetness and add a smoky flavour, perfect for sandwiches, pasta, or a standalone side dish.
Premium quality Iceberg and Cos lettuce are $2-$3 each. Use the Iceberg lettuce cups to make avocado, iceberg lettuce & egg rice paper rolls and Cos lettuce for a classic chicken Caesar salad.
Crinkly-leafed green kale is A rich source of many nutrients, including vitamins C, E and K, folate and beta carotene; it also provides iron and calcium. Strip leaves from the stems and chop, then toss in a hot pan with olive oil, crushed garlic, chopped red chilli and a scattering of currants. Heat until the kale wilts, then serve. Kale is $1.50-$3 a bunch.
Cabbage is incredibly versatile. Shred it for salads and coleslaws, chop it for stir-fries, or ferment it for kimchi and sauerkraut. Green or Drumhead cabbage is priced between $3 and $4 per head, while vibrant red cabbage ranges from $4 to $5. Try this tasty red cabbage, fennel, and toasted almond salad.
FLOWERS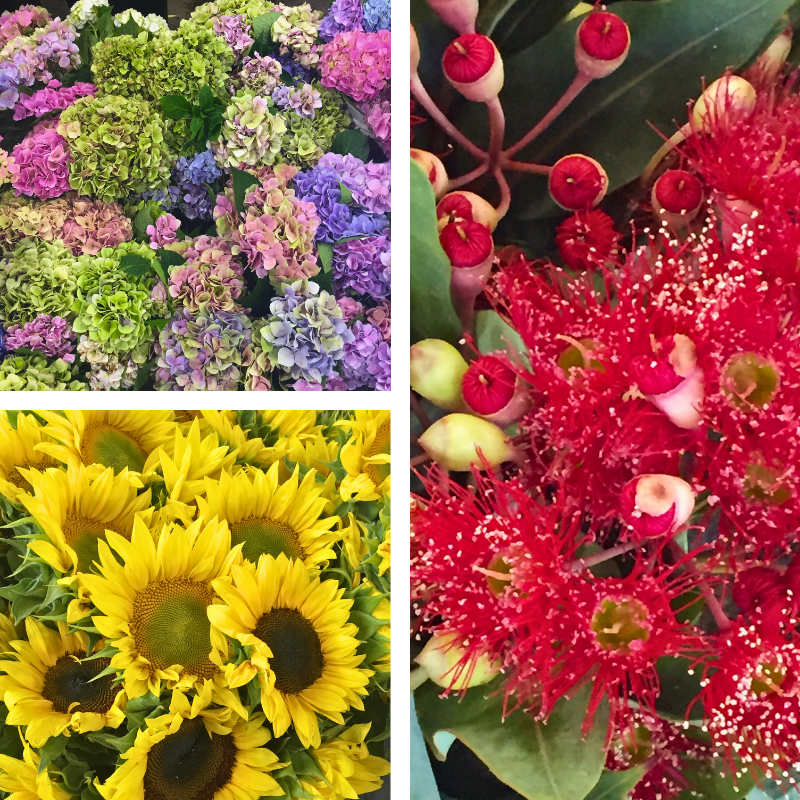 This week's standout fresh flowers include stunning flowering eucalyptus, sunflowers, peonies from Victorian king protea, hydrangeas, smoke bush, iris, pincushions, alstroemeria, gerbera, gladioli, oriental lilies, lupins, kangaroo paw, dahlia, carnations, Geraldton wax, Queen Anne's lace and astilbe.
Please note that the prices quoted in this report only apply for the current week and are subject to variation based on product variety, size, quality, and the trading area. For more information, please feel free to contact Sue Dodd, Marketing Consultant, at 0438725453
---
Published On 2023-11-13 14:56:28
Print Page