Mango & white chocolate cheesecake
Mango & white chocolate cheesecake
Prep 35 mins + chilling time | Serves 10-12
This fabulous make-ahead dessert is perfect for easy entertaining.
200g plain sweet biscuits (like Arnotts Nice)
100g butter, melted + extra for greasing
2 ripe medium mangoes
10g sachet gelatine sheets (or 2 teaspoons gelatine powder)
1⁄4 cup boiling water
250g white chocolate melts
500g spreadable 60%-less fat cream cheese
1⁄2 cup caster sugar
300ml thickened cream
2 passionfruit, pulp removed, to serve
Step 1 Lightly grease and line the base of a 22cm spring-form pan with baking paper. Place biscuits into a food processor. Process until fine crumbs form. Add melted butter and process until well combined. Press mixture into the base of pan. Refrigerate for 30 minutes.
Step 2 Meanwhile, wash and dry food processor bowl. Peel 1 mango and remove flesh. Puree mango in food processor bowl. Set aside. Stir gelatine and boiling water in a cup until gelatine dissolves. Set aside. Melt chocolate in a heatproof bowl in the microwave on medium power for 1 minute at a time, stirring with a metal spoon, until just melted. Stir and set aside.
Step 3 Using an electric hand beater, mix cream cheese and sugar until light and fluffy. Beat in gelatine mixture, melted chocolate and cream. Swirl through pureed mango. Spoon mixture into biscuit base. Cover and refrigerate overnight.
Step 4 To serve, transfer cheesecake to a serving plate. Peel and slice remaining mango. Decorate cheesecake with mango, drizzle with passionfruit pulp and serve.
Good for you ...
Mangoes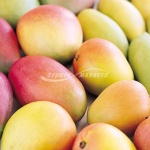 A very good source of vitamin C which contributes to the normal functioning of the body's immune system.
A good source of beta carotene, which the body converts to vitamin A. This vitamin is needed for normal vision. The deeper the colour of the mango flesh, the higher the level of beta carotene. Mango flesh also provides another carotenoid called cryptoxanthin which is being researched for its role in normal eye health.
A source of dietary fibre which is important for the normal function of the intestine.