28 AUG - 3 SEPT 2023 
---
FRUITS: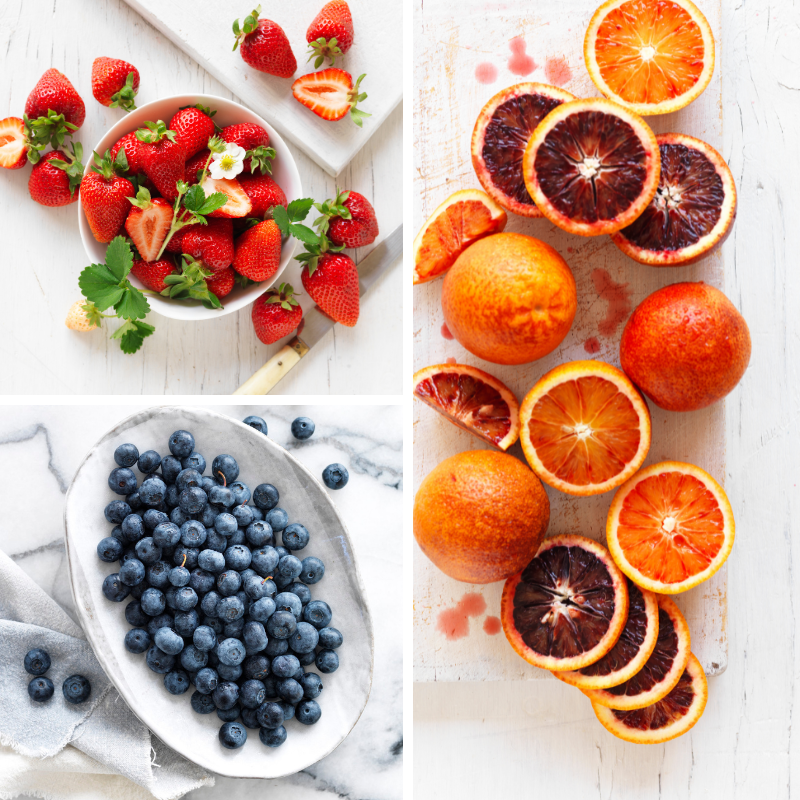 Plump, rich-red Queensland strawberries are sweet and juicy. Eat straight from the punnet or add to your favourite home-baked goodies. Delicious in crumbles, muffins, pies and puddings, now is the time to cook with this rosy fruit as they are now $2.50-$6 a punnet.
Spring heralds the arrival of good supplies of luscious Kensington Pride mangoes from Darwin. Territory mango farmers produce 52% of Australia's crop and supply the first mangoes of the new season. This week, mangoes are available at your local greengrocer for $4-$6 each. FAST AND FRESH TIP: Make a quick mango salsa to serve with curry by combining diced mango with diced red onion, chopped red chilli, lime juice, and coriander leaves.
Turn super healthy, memory-improving blueberries into smoothies, salads, and muffins, and sprinkle them in your muesli and salads for natural sweetness and a boost of antioxidants and vitamin C. Blueberries are $2-$4 and Jumbo blueberries are $6 a punnet.
Hass avocados are well-supplied and offer good value. Avocados are rich in vitamins, minerals and fibre. A medium to large-sized avocado is only $1.50-$3 each.
Tangy citrus is in abundance. Imperial and Murcott mandarins are excellent eating. Pink fleshed Ruby grapefruit, juicy tangelos, zesty lemons, and sweet Carra Carra Navel oranges and blood oranges are good value and quality. Use citrus juice and zest to flavour pudding, desserts and baked goods. Most citrus is retailing for $1-$6 a kilo, depending on variety, size and quality.
VEGETABLES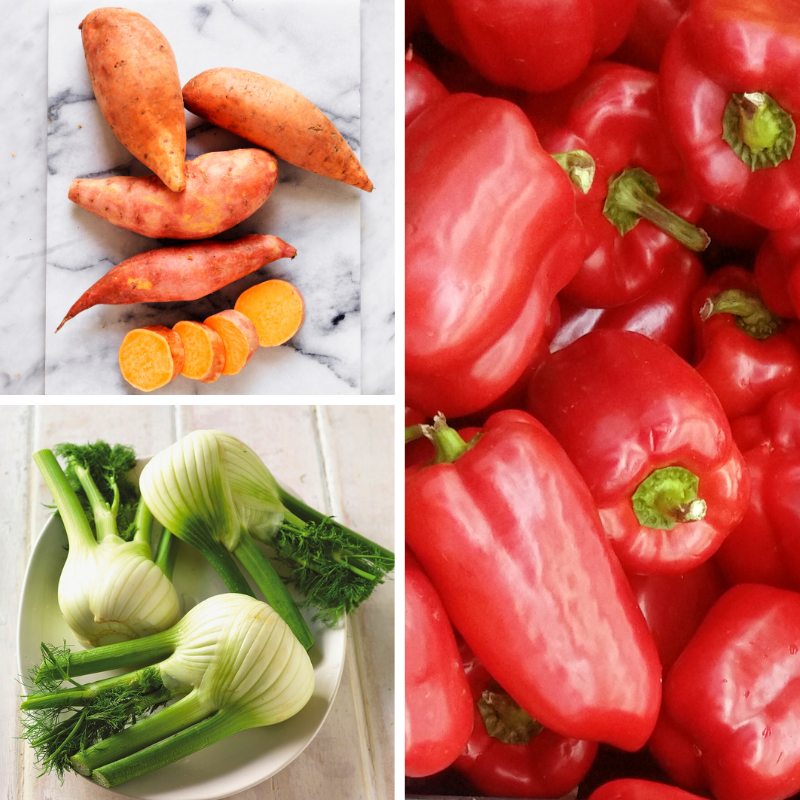 Mild-tasting zucchini are very versatile and team deliciously with a myriad of flavours. This week, create a tasty meal with zucchinis as they are a thrifty buy at $3-$6 a kilo, depending on size. These honey & sesame zucchini, mushroom & chicken skewers are fast and fresh.
This week, crisp Iceberg lettuce is a top buy at $2-$3. Perfect timing for enjoying these lettuce cups for serving San Choy Bow or making up a classic avocado, green omelette and lettuce roll for school or work lunches.
Fresh green bean prices have dropped to a super buy of $3-$5 a kilo for machine-harvested beans. Bright and brimming with flavour, green beans are delicious in stir-fries or salads. For maximum freshness, use within 2-3 days of purchasing. Handpicked beans have a longer shelf life but are $-$ a kilo this week.
Large bulbs of fennel are $1.50-$2. Fennel's delicate aniseed flavour teams well with mussels and prawns. Add fennel to a seafood risotto or soup or shred finely and toss through a salad with juice citrus segments.
Broccolini costs $2.50-$3 a bunch; alternatively, broccoli costs $3-$5 a kilo. Both broccoli and broccolini are a healthy choice for your immune system and support your heart and circulation health. Add to pasta dishes, stir-fries or serve as a side veggie.
Create a vibrant and nutritious salad by combining sweet corn with diced avocados, cherry tomatoes, red onion, and chopped herbs. Toss everything in a zesty vinaigrette for a refreshing dish that's bursting with colours and flavours. Sweetcorn cobs are available for 90c-$1.50 a cob. Look for a multi-buy pack for more savings.
Broad bean season has just started. Serve Up freshly shelled and steamed broad beans with a generous sprinkling of grated pecorino cheese and a drizzle of olive oil. Baby broad beans are best; that way, you won't have to double-shell the bean. Broad beans are $10-$20 a kilo, depending on size.
Add a little crunch to your meals with flavoursome celery. Depending on the size of the bunch of celery it will be $3-$4
Tender, silky English spinach is sold by the bunch for $1.50-$3. Spinach is rich in an antioxidant called lutein, which is essential for eye health. Use leaves and stems in this meat-free spinach & ricotta gnocchi with sage & walnut butter is easy and delicious. The soft pillows of spinach and ricotta will melt in your mouth.
Toss a few bunches of Asian leafy greens into a steamer this week; they are great value, quick to cook and nutritious. Mix it up with bok choy, buk choy, choy sum and gai lum, all available for $1.50-$3 a bunch.
Put refreshing emerald-coloured Lebanese cucumbers on your shopping list. This vibrant vegetable adds a juicy crunch to salads and salsas and makes a healthy dip. Team cucumber with the fresh flavours of mint and dill, tomatoes, lemon, sour cream, feta and yoghurt. Lebanese cucumbers are $4-$6 a kilo.
Cauliflower is highly adaptable, delicious, roasted, braised, fried, mashed and steamed. It can even be eaten raw in salads and slaws. Low in kilojoules, cauliflower is a fantastic low-carb rice substitute. Cauliflower rice is easy to make, delicious and healthy. Cauliflowers are $3-$4 each this week.
Queensland is Australia's most prominent grower of orange-fleshed sweet potato, with over 90% of the area grown centred mainly on Bundaberg. With its attractive orange flesh and rich, creamy texture, kumara can be roasted, boiled, microwaved, or steamed. This kumara, spinach & bacon hash with eggs & feta dish is delicious for supper or brunch. Low GI kumara (sweet potato) is a good buy at $1-$4 a kilo.
Red capsicums from Bundaberg and Bowen are Great value at $3-$6 a kilo.
Crisp snow peas and sugar snap peas are ultra-fresh and require minimal cooking. Enjoy them finely shredded in a salad, or cook for a short time to ensure they are served with a little crunch. Handpicked peas are $8-$10 a kilo. Tip: The most tender pods are generally the smaller-sized pods. Taking only 5 minutes to cook this recipe for garlic & chilli prawns with snow peas is easy and tasty.
FLOWERS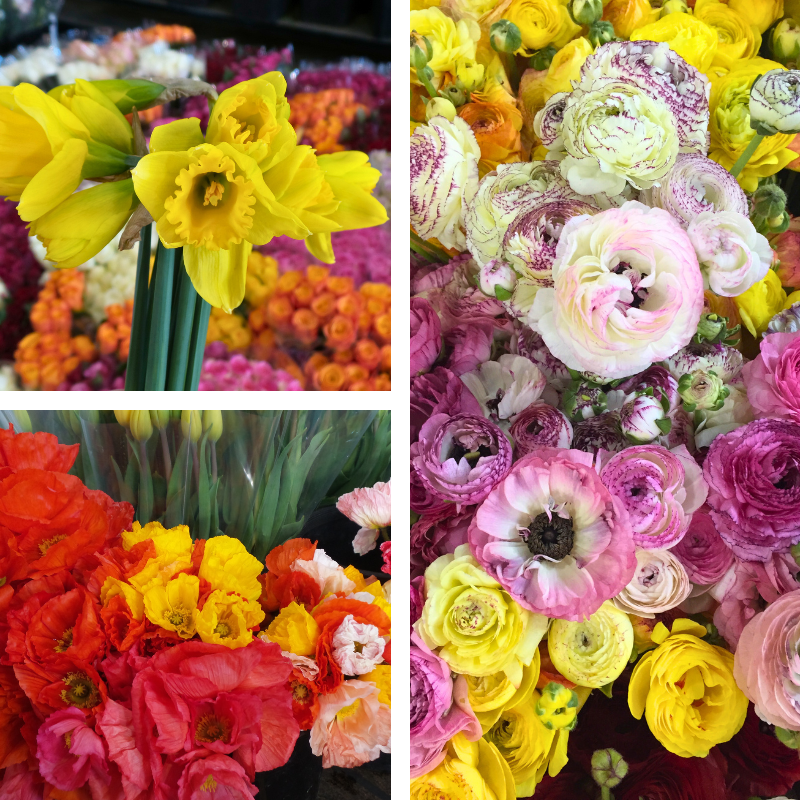 You are spoiled for choice this week as a superb selection of quality flowers is available from your florist in spring. Treat yourself to daffodils, jonquils, blossom, lavender, anemone, violets, golden Leucadendron, pierus, blushing bride, hellebores, freesia, daphne, sweet william, sea holly, sunflowers, stock, sweetpeas, poppies, protea, lavender, protea, kale, orchids, blushing bride, lilies, lisianthus, roses, tulips, forget me knots or purple iris.
Please note that the prices quoted in this report only apply for the current week and are subject to variation based on product variety, size, quality, and the trading area. For more information, please feel free to contact Sue Dodd, Marketing Consultant, at 0438725453
---
Published On 2023-08-28 16:45:50
Print Page