16 - 22 October 2023 update Sydney Market that includes availability and price of seasonal fruits, vegetables and flowers. Also includes recipe suggestions.
---
FRUITS: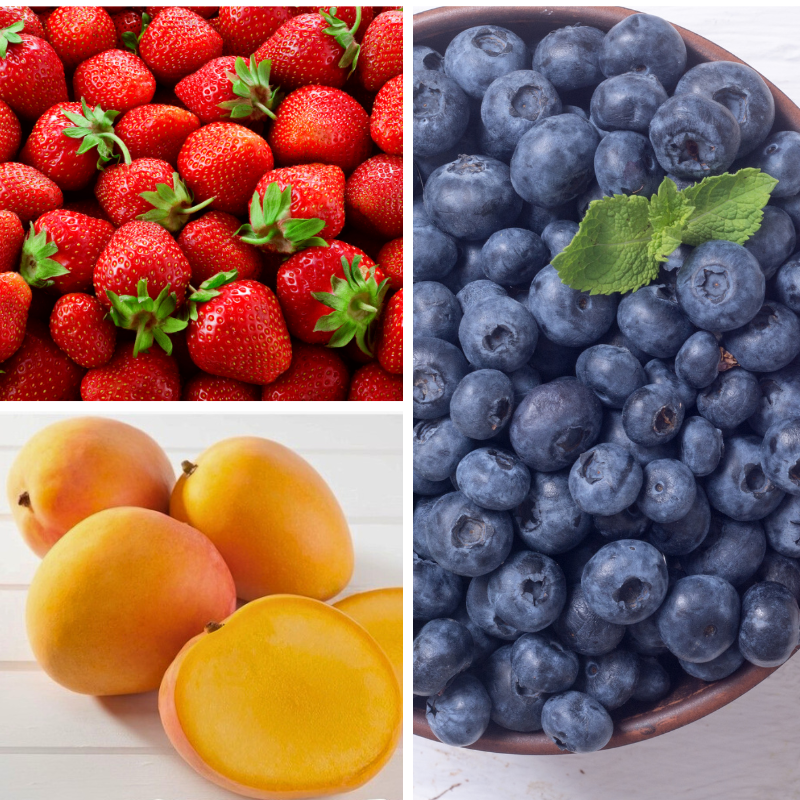 Nature's superfood, sweet nutrient-packed blueberries, are one of the healthiest snack foods. Low in kilojoules, blueberries are high in antioxidants and support brain health. These blueberry and coconut muffins are a treat. Blueberries are $1.50-$5 a punnet.
Mangoes are an all-time favourite, brimming with vitamins, calcium, fibre and potassium. A mango will yield to gentle pressure around the stem when it's ripe. Choose from Kensington Prides, Calypso and R2E2 mangoes. Prices range from $2-$6 each, depending on size and variety. Multi-pack buys offer super value.
Strawberries are versatile gems that are perfect for snacking, baking, and elevating your culinary creations. These luscious berries are not only a treat for the taste buds but also a healthy and versatile addition to your salads, breakfast and desserts. This week strawberries are $1.50-$4 a punnet.
Sweet and juicy North Queensland rockmelon is a perfect choice to quench your thirst. Before slicing it into wedges for serving, be sure to wash the melon's rind thoroughly. Enjoy chilled rockmelon wedges anytime, as they are available at prices ranging from $3 to $5, depending on their size.
Explore the countless ways to enjoy Hass avocados in your salads. Whether you prefer them sliced, diced, or mashed, avocados boast a lusciously creamy texture and a delightful nutty flavour. Hass avocados are available for $1 to $3 each, depending on their size.
Golden fleshed pineapples are naturally refreshing, versatile and a good source of vitamin C. These sweet and sticky teriyaki, pineapple, capsicum & chicken skewers are a great midweek with a healthy salad. Pineapples are $3-$6 each, depending on variety and size.
Supplies of flavoursome juicy limes from Mareeba are on the increase. Limes are available for 80¢ -$1 each, depending on size. Add lime juice to salad dressings and meat marinades and squeeze over papaya to embellish the flavour.
VEGETABLES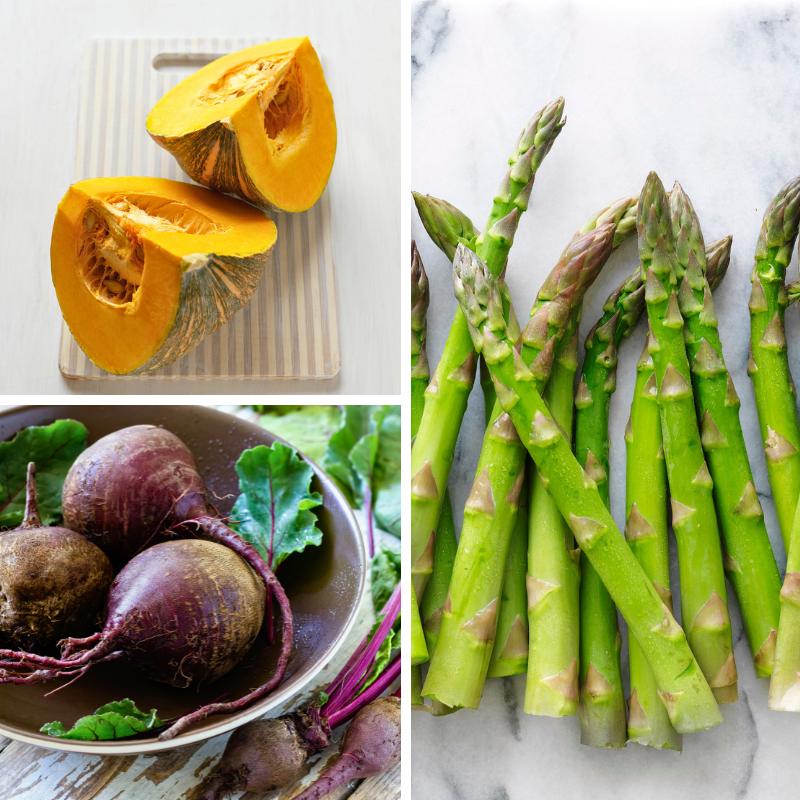 Embrace quality Australian-grown asparagus and unlock its delicious potential. Whether in Asian or Mediterranean-inspired dishes or prepared through stir-frying, steaming, or barbecuing, asparagus adds a gourmet touch. Select from three enticing colours: purple, green, or white, each offering a unique flavour profile. Prices vary from $1.50 to $3 for green nad purple and white asparagus is $4-$5 a4 per bunch, so there's an asparagus option for every palate and budget.
Freshly harvested local spring beetroots are well-priced at $1.50-$3 a bunch. Their sweet, earthy flavour and vibrant colour can add a unique and nutritious element to your meals; Pick up a bunch and try these quick and easy ideas.
Roasted Beetroot Salad: Toss beetroot chunks in olive oil, salt, and pepper, then roast them until tender. Mix with fresh greens, goat cheese, and a balsamic vinaigrette for a delightful salad.
Beetroot Chips: Slice beetroot thinly, season with your favourite spices, and bake until they become crispy chips – a healthier alternative to potato chips.
Beetroot Hummus: Blend cooked beets into your favourite hummus recipe to add a beautiful colour and a slightly sweet flavour.
Halloween pumpkins have gained popularity as a seasonal favourite, and you can now find them at your nearby greengrocer. Carving a pumpkin is a fun tradition and a great way to show your willingness to participate in trick-or-treating with the local kids. This Halloween, brighten your front door, window, or gate with a radiant jack-o'-lantern, setting the stage for a spook-tacular celebration.
Versatile mushrooms provide essential nutrients without increasing the consumption of salt, saturated fat or other compounds linked to poor health. Firm, mild-flavoured buttons are excellent in pasta dishes and sauces, while full-flavoured jumbo flats are scrumptious grilled or barbecued. Mushrooms are $8-$12, depending on size and quality.
Tender and juicy Lebanese cucumbers are a top buy at $1.50-$3 a kilo, and telegraph cucumbers are $1-$3 each, depending on size. This fresh and tasty Vietnamese-style salad can be made up to the end of step 1, one day in advance and stored, covered in the fridge. Drizzle with dressing just before serving Vietnamese cabbage, carrot & chicken salad.
With their vibrant orange flesh and sweet, nutty taste, Jap pumpkins add colour and flavour to spring meals. Transform a humble Jap pumpkin into a scrumptious meal that is rich in colour and flavour; think pasta dishes, curries, risotto, roast whole, mash, or add the puree to cakes and scones. Jap pumpkins are $1 -$2 per kilogram for a whole pumpkin and $2.50 to $3 per kilogram for a wedge.
Spice up your meals with chillies. Freshly harvested from Bundaberg and Bowen, chillies are plentiful. The mild long red chillies are ideal for adding a mild kick to curries, stir-fries, meat dishes, salads and marinates. Mild-tasting long red chillies are $3-$4 for a 150-200g pack. Try this chilli & coriander sauce to serve with salmon.
Broccolini, a delightful hybrid of broccoli and Choy Sum (Chinese broccoli) boasts a vibrant green colour and a nutritional punch with beta carotene, along with vitamins C, A, and E. It's an excellent choice for minimising waste, as both the tender stem and small florets are entirely edible. Elevate your broccolini by brushing it with a crushed garlic and olive oil paste, then char-grilling or barbecuing it until it's lightly charred, resulting in a mouthwatering dish. You can find broccolini at prices ranging from $2-$3 per bunch.
Sold by the bunch, ultra-healthy English spinach and Asian vegetables are a bargain at $1.50-$2.50 a bunch.
Premium handpicked green beans from Gympie have a 5–7-day shelf life and are a good buy at $8-$10 a kilo. Alternatively, the machine-harvested green beans are $3-$5 a kilo but should be used within 2-3 days of purchasing for maximum quality. Alternative yellow-coloured butter beans are in season and retail at $8-$10 a kilo.
Broccoli is an excellent source of vitamins A and C. To retain maximum flavour and nutrition, cook broccoli lightly. Broccoli sprigs are lovely blanched and served with dips or added to a spring salad. Broccoli is $4-$5 a kilo.
Zucchini's mild flavour serves as a blank canvas for your culinary creativity, allowing you to effortlessly pair them with various flavours and ingredients to craft a wide range of delicious meals. Pick up a kilo of zucchini this week and whip up delicious zucchini-based dishes. Zucchini are $3-$6 a kilo.
FLOWERS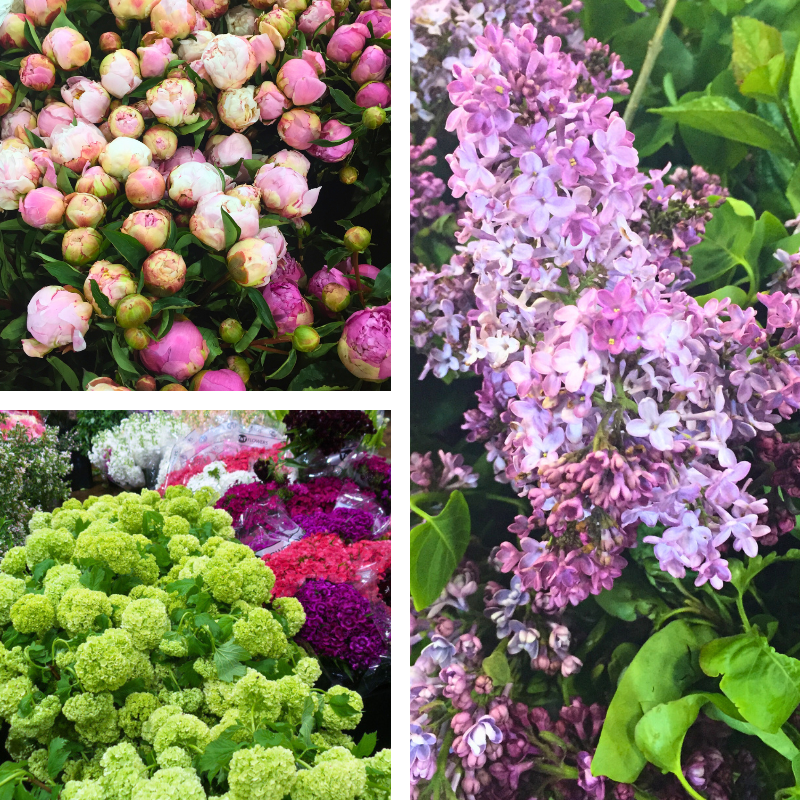 Fresh peonies from Victorian growing are increasing in volume and colour choice. Waratah, King Protea, larkspur, chincherinchee, poppy pods, peonies and hydrangeas are looking great; also, in season, delphinium, beehive ginger, smoke bush, artichoke flowers, oriental lilies, Canterbury bells, David Austin roses, kangaroo paw, billy button, flannel flower, alstroemeria, iris, pincushions, gerbera, and gladioli.
Please note that the prices quoted in this report only apply for the current week and are subject to variation based on product variety, size, quality, and the trading area. For more information, please feel free to contact Sue Dodd, Marketing Consultant, at 0438725453
---
Published On 2023-10-16 16:28:00
Print Page