Blueberry & coconut muffins
Blueberry & coconut muffins
Prep 20 mins | Cook 25 mins | Serves 10
2 cups self-raising flour
1 tsp ground cinnamon
Pinch salt
¾ cup brown sugar
⅓ cup desicated coconut
250g blueberries
2 free-range eggs, lightly beaten
150ml buttermilk or milk
150ml rice bran oil
Icing sugar, for dusting
Step 1 Preheat oven to 200°C/180°C fan-forced. Line 10 holes of a ½ cup capacity muffin pan with paper muffin wrappers or cases.
Step 2 Sift flour, cinnamon and salt into a large bowl. Stir in brown sugar, coconut and blueberries.
Step 3 Combine eggs, buttermilk or milk and oil in a medium bowl. Using electric beaters, beat until thick and creamy. Using a large metal spoon, fold egg mixture into dry ingredients. Spoon into prepared muffin pan. Bake for 25-30 minutes until golden and a skewer inserted in the centre comes out clean. Cool in pan for 10 minutes before turning out onto a wire rack. Dust with icing sugar to serve.
Good for you ...
Blueberries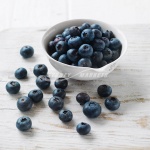 A good source of vitamin C which contributes to the normal functioning of the body's immune system.
Provide vitamin E, an antioxidant vitamin that helps protect cells from damage due to free radicals.
A source of dietary fibre, which is important for the normal functioning of the intestine.
The natural purple pigments are antioxidants and may boost the body's level of these compounds.