Zucchini, basil & parmesan frittata
Zucchini, basil & parmesan frittata
Prep 15 mins | Cook 50 mins | Serves 4
Serve with delicious frittata with a mixed salad for a light meal.
1 tbs olive oil + extra for greasing
500g zucchinis, thinly sliced
1 garlic clove, crushed
10 free range eggs, at room temperature
1⁄2 cup cream
1⁄2 cup freshly-grated parmesan cheese
1⁄4 cup basil leaves, finely chopped
Extra basil leaves, to serve
Step 1 Lightly oil a 6-cup (about 6cm deep) baking dish. Preheat oven to 180°C/160°C fan-forced. Heat oil in a frying pan over medium heat. Add zucchini and garlic and cook, stirring often, for 4-5 minutes until slightly tender. Set aside to slightly cool.
Step 2 Whisk eggs and cream in a large bowl. Stir in cheese and basil. Season with salt and pepper to taste. Stir in cooled zucchini mixture. Pour mixture into prepared dish. Bake for 45–50 minutes until just set in the centre. Sprinkle with basil leaves and serve hot or cold.
Good for you ...
Zucchini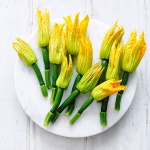 Zucchini are a source of vitamin C. This vitamin is important for healthy gums and also helps the body fight infections. Dark green varieties contribute some beta carotene, an antioxidant pigment which the body can convert to vitamin A.