Wok-tossed purple Brussels sprouts & bacon
Wok-tossed purple Brussels sprouts & bacon
Prep 10 mins | Cook 8 mins | Serves 4
2 tbs olive oil
125g bacon rashers, trimmed and chopped
2 garlic cloves, crushed
500g small purple Brussels sprouts*, halved and outer leaves separated
2 tbs kecap manis
⅓ cup chicken stock
2 tbs mixed seeds
*Use traditional green Brussels sprouts if the purple ones are out of season.
Step 1 Heat 1 tsp oil in a wok or large frying pan over medium-high heat until hot. Add bacon and stir-fry for 2-3 minutes until crisp. Transfer to a plate lined with paper towel. Set aside.
Step 2 Heat remaining 1½ tbs oil in wok. Add garlic and stir-fry for a few seconds. Add Brussels sprouts and stir-fry for 1 minute until vibrant. Add kecap manis and stock. Stir-fry for 3-4 minutes until sprouts are just tender. Toss through bacon. Season with pepper, scatter with mixed seeds and serve.
Good for you ...
Brussels Sprouts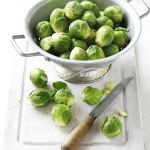 Close to the top of the class for all round nutrition, supplying dietary fibre, potassium and a range of vitamins (beta carotene, C, E and the B vitamins, thiamin (B1), riboflavin (B2), B6, folate and pantothenic acid).
Beta carotene is converted to vitamin A in the body and is important for normal vision while it also contributes to the normal functioning of the immune system – as do vitamins B6, C and folate. Vitamin E helps protect cells from damage due to free radicals.
Vitamins B1, B2, B6 and pantothenic acid are all involved in normal energy metabolism.