Winter vegetable, chorizo & tomato pasta
Winter vegetable, chorizo & tomato pasta
Prep 25 mins | Cook 45 mins | Serves 4
1 tbs olive oil
250g chorizo sausages, finely diced
1 small leek, trimmed, halved lengthways and thinly sliced
2 garlic cloves, finely chopped
1 carrot, peeled and finely diced
2 sticks celery, trimmed and finely diced
125g button mushrooms, finely chopped
500g jar tomato pasta sauce
400g dried bow-tie pasta
1⁄2 cup reduced fat thickened cream
grated parmesan cheese, to serve
Step 1 Heat oil in a large frying pan over medium heat. Add chorizo, leek, garlic, carrot, celery and mushrooms and cook, stirring often, for 15 minutes until vegetables soften. Stir in tomato sauce, cover, reduce heat and simmer for 15 minutes.
Step 2 Cook pasta following packet directions until al dente. Stir cream into chorizo mixture and heat until hot. Drain pasta and return to the pan. Add chorizo mixture and season with salt and pepper to taste. Toss to combine. Serve with grated parmesan cheese.
Good for you ...
Button Mushrooms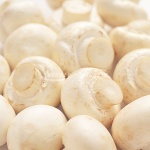 Fresh mushrooms differ from vegetables in that they supply mainly B group vitamins rather than contributing vitamin C and carotenoids (which are converted in the body to vitamin A).
They are a source of riboflavin (vitamin B2) and niacin, both of which contribute to the normal release of energy from food. They are also a source of the B vitamins pantothenic acid and biotin which both contribute to normal metabolism of fat.
A source of selenium, a mineral which contributes to the maintenance of hair and nails and the way the body uses iodine in its production of thyroid hormones.