Winter vegetable, barley & lamb shank soup
Winter Veggie, Barley & Lamb Shank Soup Recipe – Sydney Markets
Prep 25 mins | Cook 2 hrs 25 mins | Serves 4 as a main meal
This soup can be made the day before serving and stored in an airtight container in the fridge. Remove and discard any fat on the surface before reheating.
3 trimmed lamb shanks
10 cups water
⅓ cup pearl barley
2 leeks, trimmed, halved lengthways and thinly sliced
1 celery stick, thinly sliced
2 large carrots, peeled and diced
1 swede, peeled and diced
1 parsnip, peeled and diced
1 turnip, peeled and diced
1 cup finely shredded Chinese cabbage
¼ cup flat-leaf parsley leaves, chopped
Crusty bread, to serve
Step 1 Place lamb shanks and water into a large deep saucepan. Bring to the boil, skimming froth occasionally, over medium heat. Stir in barley, partially cover and simmer, stirring occasionally, over medium-low heat for 1 hour.
Step 2 Add celery, carrots, swede, parsnip, turnip and cabbage to soup. Stir to combine, cover and simmer, stirring occasionally, for 45 minutes.
Step 3 Remove lamb shanks to a board and shred flesh (discard bones). Add lamb and parsley to soup. Season with salt and pepper to taste. Simmer soup, stirring occasionally, for a further 10-15 minutes. Serve with crusty bread.
Good for you ...
Leeks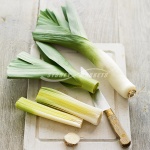 A good source of dietary fibre, which helps with normal laxation.
Provide vitamin C which helps us absorb iron from food.
The green parts of the leek are a source of several members of the carotenoid family, including beta carotene which the body converts to vitamin A.