Winter vegetable & chicken soup
Winter vegetable & chicken soup
Prep 30 mins | Cook 1hr 45 mins | Serves 6-8
1 x 1.2kg chicken, trimmed of excess fat
8 cups water
1 large brown onion, chopped
3 celery sticks
4 carrots, peeled
1 bay leaf
2 tbs olive oil
1 leek, trimmed, halved lengthways and thinly sliced
2 garlic cloves, crushed
2 parsnips, peeled and diced
2 potatoes, peeled and diced
1 swede, peeled and diced
1 cup finely shredded Chinese cabbage
½ cup flat-leaf parsley, chopped
Step 1 Place chicken, water, onion, 2 chopped celery sticks, 2 roughly chopped carrots and the bay leaf into a large saucepan. Cover and bring to boil, skimming surface occasionally, over medium heat. Reduce heat and simmer for 1 hour. Remove chicken from stock to a plate. Strain stock into large heatproof bowl (discard vegetables) and set aside. Wipe pan dry with paper towel.
Step 2 Thinly slice remaining celery and chop carrots. Heat oil in the pan over medium heat. Add leek and garlic and cook, stirring often, for 4-5 minutes until tender. Add celery, carrots, parsnips, potatoes and swede to pan. Cook, stirring often, for 5 minutes. Add reserved stock and cabbage, cover and bring to the boil. Reduce heat and simmer for 25-30 minutes or until vegetables are tender.
Step 3 Meanwhile, shred chicken flesh (discard skin and bones). Add chicken and parsley to soup. Season with salt and pepper to taste. Ladle into serving bowls and serve with toast.
Good for you ...
Celery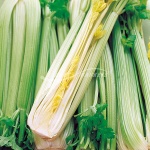 A source of vitamin C, one of the vitamins that contributes to a healthy immune system.
Provides potassium, which may help balance the effects of sodium from salt.
The distinctive fresh smell of celery comes from compounds called phthalides.