Winter vegetable & beef casserole
Winter vegetable & beef casserole
Prep 25 mins | Cook 3 hrs 20 mins | Serves 6
1kg beef chuck steak, trimmed and cut into 3cm cubes
2 tbs plain flour
1⁄4 cup olive oil
8 eschalots, peeled
2 garlic cloves, crushed
2 carrots, peeled and cut into 3cm pieces
2 celery sticks, sliced
1 swede, peeled and cut into chunks
2 parsnips, peeled and cut into chunks
1 cup dry red wine
2 cups beef stock
400g can diced tomatoes
5 sprigs thyme
1 cinnamon stick
Crusty bread or mashed potatoes, to serve
Step 1 Preheat oven to 160°C/140°C fan-forced. Lightly dust beef in flour. Heat 2 tbs oil in a large wide-based casserole pan over medium heat. Brown beef in batches. Transfer to a plate.
Step 2 Heat remaining oil in pan over medium heat. Add eschalots and cook, tossing occasionally, for 3 minutes. Add garlic, carrots, celery, swede and parsnips and cook, stirring often, for 5 minutes.
Step 3 Add wine and simmer for 2 minutes. Add stock, tomatoes, thyme and cinnamon stick. Stir to combine and bring to the boil. Cover and bake, stirring occasionally, for 3 hours. Season with salt and pepper to taste. Serve with crusty bread or mashed potatoes.
Good for you ...
Swede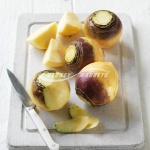 Provides dietary fibre, which keeps the intestine functioning well and contributes to normal laxation.
A good source of vitamin C which contributes to the normal functioning of the body's immune system.
A source of folate, a B vitamin that is needed for formation of blood cells.