Wholesome banana bread
Prep 25 mins | Cook 55 mins | Serves 10
1 cup wholemeal plain flour
1 cup plain flour
1 tsp ground cinnamon
2 tsp baking powder
1 tsp bi-carbonate of soda
2⁄2 cup firmly packed brown sugar
2 large over-ripe bananas (about 1 cup mashed banana is required)
2⁄2 cup buttermilk
1 tsp vanilla extract
2 free range eggs, whisked
1⁄4 cup rice bran oil
Topping:
1 just-ripe banana
1 tbs sunflower kernels (optional)
1 tsp demerera sugar
Step 1 Preheat oven to 180°C/160°C fan-forced. Grease and line a loaf pan (11cm x 21cm base measurement) with baking paper leaving a 1cm overhang over the sides of the pan. Sift flours, cinnamon, baking powder and bi-carb into a large bowl (add husks in sieve to bowl). Stir in sugar and make a well in the centre.
Step 2 Peel and mash the over-ripe bananas in a bowl until smooth. Whisk buttermilk, vanilla, eggs and oil in bowl until thick and creamy. Fold buttermilk mixture and bananas through the dry ingredients. Spoon mixture into prepared pan.
Step 3 For the topping, peel and slice just-ripe banana and arrange on cake mixture. Sprinkle with seeds if liked and demerera sugar. Bake for 55-60 minutes or until a skewer inserted in the centre comes out clean. Turn onto a wire rack to cool completely. Slice and serve.
Good for you ...
Bananas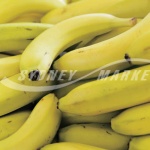 A good source of vitamins B6 and folate. Vitamin B6 is needed for the body's nervous system and folate is important for making red blood cells. A source of antioxidant vitamins E and C (vitamin C also helps protect us against infection). A good source of dietary fibre and also provides potassium.