Whole roasted spiced cauliflower with tahini yoghurt & pomegranate
Whole roasted spiced cauliflower with tahini yoghurt & pomegranate
Preparation 15 mins | Cooking 45 mins | Serves 6
1 whole cauliflower (about 1.3 kg)
¼ cup olive oil
2 garlic cloves, crushed
2 tsp ground cumin
2 tsp ground coriander
1 tsp Moroccan spice (Ras al Hanout)
1 tbs lemon juice
½ pomegranate, seeds removed
Extra virgin olive oil, coriander leaves and lemon wedges, to serve
Tahini yoghurt:
½ cup Greek-style natural yoghurt
2 tbs lemon juice
2 tbs tahini
Step 1 Preheat oven to 200°C fan-forced. Trim outer leaves from cauliflower. Trim and cut a deep cross into the central core on the base of the cauliflower. Place cauliflower on a microwave-safe plate. Microwave on high (100%) for 6-7 minutes or until just steaming.
Step 2 Combine oil, garlic, cumin, coriander, Moroccan spice and lemon juice in a small bowl. Season with salt and pepper. Place cauliflower into a baking dish lined with baking paper. Spoon spice mixture over cauliflower. Pour water around the cauliflower to a 1cm depth. Bake for 35-40 minutes until just tender when tested with a skewer.
Step 3 While cauliflower is roasting, combine tahini yoghurt ingredients in a bowl. Season with salt and pepper.
Step 4 To serve, sprinkle cauliflower with pomegranate seeds. Drizzle with extra virgin olive oil and sprinkle with coriander leaves. Serve with tahini yoghurt and lemon wedges.
Good for you ...
Cauliflower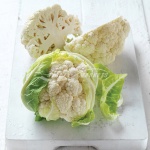 A source of dietary fibre which helps normal functions of the intestine to help keep us regular.
A good source of vitamin K which is one of the many nutrients contributing to normal bone structure.
An excellent source of vitamin C, with 100g supplying well over a full day's requirement. This vitamin contributes to the normal immune function.
A source of folate, a B vitamin that is important for normal blood cells.