Watermelon, rocket & haloumi salad with mint dressing
Watermelon, rocket & haloumi salad with mint dressing
Prep 15 mins | Cook 2 mins | Serves 4
1⁄4 small (about 1 kg) watermelon
1⁄2 small bunch rocket, trimmed
2 tbs olive oil
250g haloumi cheese, drained and cut into 1⁄2 cm–thick slices
100g pitted Kalamata olives, halved lengthways
Mint dressing
1⁄4 cup mint leaves, chopped
1⁄4 cup olive oil
1 tsp white balsamic vinegar
Step 1 Remove rind and slice watermelon into thin wedges. Arrange rocket and watermelon wedges on serving plates.
Step 2 To make mint dressing, combine ingredients in a jug. Season with salt and pepper to taste. Whisk to combine.
Step 3 Heat oil in a medium non-stick frying pan over medium-high heat. Add haloumi cheese, and cook for 1 minute on each side until golden. Arrange warm haloumi on watermelon and sprinkle with olives. Drizzle with mint dressing and serve.
Good for you ...
Watermelon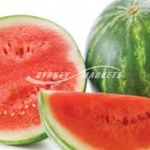 A source of vitamin C, which contributes to the normal functioning of the body's immune system.
Provides beta carotene which the body converts to vitamin A. This vitamin is needed for normal skin structure and function. The deeper the colour of the red flesh, the higher the level of beta carotene.
A source of lycopene, a carotenoid also found in tomatoes and pink grapefruit and being researched for its role in the health of the prostate gland in men.