Watermelon cubes with feta, olives & mint
Watermelon cubes with feta, olives & mint
Prep 20 mins | Makes 12
Excellent for easy entertaining, serve these with cool drinks. Toss leftover watermelon through a fruit salad or blend it for an iced drink.
½ small (about 2kg) piece seedless watermelon, chilled
100g Persian or marinated feta, drained
1 tbs finely chopped mint leaves + 12 small mint leaves to serve
6 pitted Kalamata olives, finely chopped
Dukkah*, to serve
*Dukkah is a delicious dry mixture of ground seeds, spices and nuts. It's available from some greengrocers and most supermarkets.
Step 1 Trim watermelon and cut flesh into 12 x 3cm square cubes. Using a melon baller (or small knife), scoop a small well out of each watermelon cube, ensuring that you keep the watermelon sides intact.
Step 2 Beat feta in a small bowl until smooth. Stir in mint and olives. Spoon mixture into watermelon cubes. Top each with a small mint leaf. Place onto a serving tray, sprinkle with dukkah and serve.
Good for you ...
Watermelon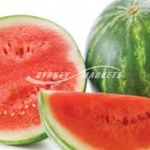 A source of vitamin C, which contributes to the normal functioning of the body's immune system.
Provides beta carotene which the body converts to vitamin A. This vitamin is needed for normal skin structure and function. The deeper the colour of the red flesh, the higher the level of beta carotene.
A source of lycopene, a carotenoid also found in tomatoes and pink grapefruit and being researched for its role in the health of the prostate gland in men.