Watermelon, chicken & marinated feta salad
Watermelon, chicken & marinated feta salad
Prep 20 mins | Cook 10 mins | Serves 4
2 chicken breast fillets
1 tbs olive oil
1⁄4 (about 1kg) seedless watermelon, trimmed and cut into 2–3cm cubes
1⁄2 small red onion, very thinly sliced
100g pitted Kalamata olives, sliced lengthways
125 marinated feta, drained and roughly crumbled
60g baby spinach leaves
Balsamic Dressing
1 tbs white balsamic vinegar
2 tbs extra virgin olive oil
Step 1 Preheat a greased barbecue grill or char-grill pan on medium heat. Brush chicken with oil and season with salt and pepper. Barbecue or char-grill chicken for 4–5 minutes on each side until just cooked through. Transfer chicken to a board to rest for 10 minutes.
Step 2 Cut chicken into 1⁄2 cm-thick slices. Combine chicken, watermelon, onion, olives, feta and spinach in a large bowl.
Step 3 To make the dressing, place ingredients in a screw-top jar. Season with salt and pepper to taste. Shake until well combined. Drizzle dressing over salad, gently toss to combine and serve.
Good for you ...
Watermelon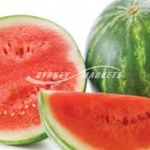 A source of vitamin C, which contributes to the normal functioning of the body's immune system.
Provides beta carotene which the body converts to vitamin A. This vitamin is needed for normal skin structure and function. The deeper the colour of the red flesh, the higher the level of beta carotene.
A source of lycopene, a carotenoid also found in tomatoes and pink grapefruit and being researched for its role in the health of the prostate gland in men.