Vietnamese salad, pickled carrot & pork rolls
Vietnamese salad, pickled carrot & pork rolls
Prep 30 mins + pickling time | Cook 10 mins | Serves 4
These spicy rolls are perfect for lunch!
500g pork fillet
1 tbs olive oil
4 crusty long Vietnamese-style bread rolls
150g store-bought chicken pate
3 radishes, trimmed and thinly sliced
1 Lebanese cucumber, sliced lengthways into thin ribbons
½ cup Vietnamese mint leaves (or use common mint)
1 cup coriander leaves
4 green onions (shallots), trimmed and halved lengthways
1 long red chilli, deseeded and chopped + extra to serve
Maggi seasoning or sweet chilli sauce, for drizzling (optional)
Pickled carrots:
1/3 cup white vinegar
1/3 cup sugar
2 large carrots
Step 1 To make pickled carrots, place vinegar and sugar in a small saucepan over medium heat. Stir until sugar dissolves. Pour into a heatproof bowl. Using a vegetable peeler, peel and slice carrots into long thin ribbons. Add carrots and 1 tsp salt to vinegar mixture and stir to combine. Stand for 30 minutes. Drain carrots and chill until ready to serve.
Step 2 Brush pork with oil and season with salt and pepper. Preheat a char-grill or non-stick frying pan over medium heat. Add pork and cook, turning occasionally, for 10-12 minutes until almost cooked through. Transfer to a plate, cover with foil and set aside to rest for 5 minutes. Thinly slice pork.
Step 3 Split bread rolls lengthways and spread with pate. Top with pork, pickled carrots, radishes, cucumber, Vietnamese mint, coriander, green onions and chilli. Drizzle with Maggi seasoning or sweet chilli sauce if liked and serve.
Good for you ...
Coriander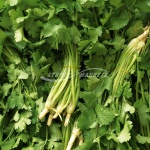 Contains dietary fibre, vitamin C and iron. The quantities are likely to be significant if you consume a lot of coriander, as may occur with something like coriander pesto.