Vietnamese chilli chicken salad
Vietnamese chilli chicken salad
Prep 20 mins | Cook 10 mins | Serves 4
2 tbs tomato sauce
2 tbs sweet chilli sauce
2 tbs olive oil
500g chicken mince
2 garlic cloves, finely chopped
4 green onions (shallots), trimmed and thinly sliced
1 carrot, shredded or coarsely grated
1 cup coriander leaves, chopped
1 cup bean sprouts, trimmed
1 red bird's eye chilli, deseeded and thinly sliced
To serve
1 small Iceberg lettuce, leaves trimmed and leaves separated
Mint and coriander leaves
lime wedges
Step 1 Combine tomato and sweet chilli sauces in a jug. Heat oil in a wok over high heat. Add chicken and stir-fry, breaking up any lumps of mince, for 4–5 minutes or until white and cooked through. Add garlic, green onions and carrot. Stir-fry for 1 minute. Add tomato sauce mixture, coriander and bean sprouts. Stir-fry for 1 minute. Season with salt and pepper to taste. Set aside to cool slightly.
Step 2 To serve, spoon chicken mixture into a serving bowl. Sprinkle with red chilli. Arrange lettuce leaves, mint, coriander and lime wedges on a serving platter. To eat, spoon chicken mixture onto lettuce leaves, top with mint and coriander leaves, drizzle with lime juice then roll up and enjoy!
Good for you ...
Coriander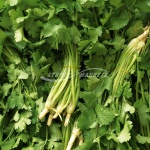 Contains dietary fibre, vitamin C and iron. The quantities are likely to be significant if you consume a lot of coriander, as may occur with something like coriander pesto.