'Veggie smuggler' cake
Preparation 25 mins | Cooking 1 hour | Serves 8
3 cups wholemeal self-raising flour
1¼ cups brown sugar
1 tsp ground cinnamon
1 tsp bi-carbonate of soda
2/3 cup coarsely grated carrot
2/3 cup coarsely grated zucchini
1 cup coarsely grated kumara (orange sweet potato)
1 cup vegetable or grape seed oil
1 tsp vanilla extract
3 free-range eggs
150g strawberries, hulled and sliced, to serve
Cream cheese frosting:
125g cream cheese
50g butter, softened
½ cup icing sugar
Step 1 Preheat oven to 180°C. Grease and line a 20cm round cake pan with baking paper.
Step 2 Combine flour, sugar, cinnamon and bi-carbonate of soda in a large bowl. Stir to combine and break up any lumps of sugar.
Step 3 Place grated carrot and zucchini between sheets of paper towel and squeeze to remove excess moisture. Add carrot, zucchini and kumara to the flour mixture and stir until well combined.
Step 4 Combine oil, vanilla and eggs in a jug. Whisk until well combined. Make a well in the flour mixture. Pour in egg mixture and using a large metal spoon, stir until well combined. Spoon mixture into prepared pan. Bake for 1 hour or until a skewer inserted in the centre comes out clean. Remove from oven and stand for 5 minutes then turn out onto a wire rack to completely cool.
Step 5 To make the frosting, using an electric hand-mixer, beat the cream cheese and butter until smooth. Beat in icing sugar until light and fluffy. Spread frosting over top of the cooled cake. Top with strawberries. Slice and serve.
Good for you ...
Sweet Potato - Kumara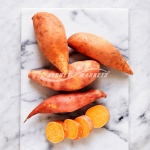 Like other orange coloured vegetables, kumara is rich in a range of carotenoids, including beta carotene, which the body converts to vitamin A (needed to for normal vision and the structure of our skin).
A good source of vitamin C, which is needed for the normal functioning of the immune system.
A good source of vitamin E, which helps protect cells from damaging free radicals
A source of dietary fibre which is needed for the normal functioning of the intestine.