Veggie & lentil bolognese pasta
Veggie & lentil bolognese pasta
Prep 25 mins | Cook 1 hr 10 mins | Serves 6
2 tbs olive oil
1 brown onion, finely chopped
2 garlic cloves, finely chopped
1 stick celery, finely diced
1 carrot, peeled and finely chopped
100g button mushrooms, finely chopped
150g eggplant, trimmed and finely chopped
700g jar tomato pasta sauce
400g can lentils, drained and well rinsed
1 cup chicken or vegetable stock
500g large shell or penne pasta
Grated parmesan, to serve
Step 1 Heat oil in a deep frying pan over medium heat. Add onion and garlic and cook, stirring often, for 3 minutes until tender. Add celery, carrot. mushrooms and eggplant and cook, stirring often, for 5-7 minutes until eggplant is tender.
Step 2 Stir in tomato pasta sauce and lentils. Cover and bring to the boil over medium heat. Stir in stock. Reduce heat to low and simmer, stirring occasionally, for 45-50 minutes until vegetables are tender. Season with salt and pepper to taste.
Step 3 Cook pasta in a large saucepan of boiling water following packet directions, until al dente. Drain. Spoon pasta into serving bowls, top with sauce and grated parmesan and serve.
Good for you ...
Eggplant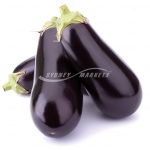 A good source of dietary fibre, which contributes to normal bowel function.
A good source of vitamin B6 that plays a role in hundreds of biochemical reactions in the body, including contributing to energy metabolism.
The purple skin is a rich source of antioxidants