Veggie & chicken noodle salad
Veggie & chicken noodle salad
Prep 20 mins | Serves 4
450g fresh thin hokkien noodles
1⁄2 barbecued chicken, skin and bones discarded and flesh shredded
1 carrot, shredded
2 young stems celery (leaves attached), thinly sliced
2 Lebanese cucumbers, thinly sliced lengthways (use a veggie peeler)
2 green onions (shallots), trimmed and thinly sliced
1⁄2 small yellow capsicum, trimmed and diced
1⁄4 cup coriander leaves, chopped
1⁄4 cup salt reduced soy sauce
2 tbs honey
1 tbs rice bran oil or vegetable oil
Fried shallots or chopped roasted unsalted peanuts, to serve (optional)
Step 1 Place noodles into a large heatproof bowl. Cover with boiling water and leave to stand for 2-3 minutes until tender. Separate noodles and drain well. Dry bowl and return drained noodles to the bowl.
Step 2 Add chicken, carrot, celery, cucumbers, green onions, capsicum and coriander to noodles. Combine soy sauce, honey and oil in a screw-top jar and shake until well combined. Drizzle soy mixture over salad. Gently toss to combine and serve sprinkled with fried shallots or chopped peanuts.
Good for you ...
Lebanese Cucumber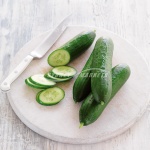 A good source of vitamin C. One of the many functions of vitamin C is the normal formation of collagen which is important for healthy teeth, gums and skin.