Veggie & bacon lunchbox frittatas
Veggie & bacon lunchbox frittatas
Prep 20 mins | Cook 30 mins | Serves 6
These mini frittatas are great for picnics too!
1 tbs olive oil
2 rashers rindless bacon, chopped
2 garlic cloves, crushed
1 carrot, peeled and finely diced
1 zucchini, finely diced
250g fresh green peas, podded*
6 eggs, at room temperature
1 cup thickened cream
1 cup grated parmesan cheese
* You will need about 3⁄4 cup shelled peas
Step 1 Heat oil in a large non-stick frying pan over medium heat. Add bacon, garlic, carrot and zucchini and cook, stirring often, for 5 minutes. Stir in peas and cook for 1 minute. Set aside to cool.
Step 2 Preheat oven to 180°C/160°C fan-forced. Line a 6 hole x 3⁄4 cup Texas muffin pan with muffin non-stick baking papers or cases.
Step 3 Whisk eggs and cream in a large bowl. Stir in vegetable mixture and 3⁄4 of the cheese. Season with salt and pepper. Evenly ladle mixture into prepared pan. Sprinkle tops with remaining cheese. Bake for 20 minutes or until puffed and pale golden. Cool in pan for 10 minutes then transfer to a cooling rack. Serve immediately warm or chill and pack into a lunchbox.
Good for you ...
Green Peas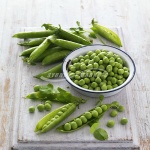 A source of protein needed for growth and repair of tissues.
A good source of dietary fibre, which helps normal laxation.
Provide B complex vitamins thiamin (B1), riboflavin (B2), niacin (B3) and folate, all needed for normal growth and development.
A source of iron, which is needed for normal cognitive function.