Vegetable Gado Gado
Prep 20 mins | Cook 12 mins | Serves 4
8 even-sized (about 500g) new (chat) potatoes
100g green beans, trimmed
150g broccoli, trimmed and cut into small florets
1 Lebanese cucumber, cut into thick sticks
12 ripe cherry tomatoes, halved
2 carrots, peeled and cut lengthways into sticks
4 boiled eggs, peeled and quartered lengthways
Step 1 To make the peanut sauce, combine all ingredients in a bowl. Stir until combined. Set aside.
Step 2 Steam or boil potatoes for 10 minutes until just tender. Refresh in cold water and cut in half. Steam or boil beans and broccoli for 2–3 minutes until just tender. Arrange potatoes, beans, broccoli, cucumber, tomatoes, carrots and eggs on serving plates. Serve with warm peanut sauce for dipping.
Good for you ...
Broccoli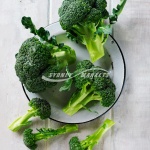 Top of the class for its content of many nutrients, including iron (contributes to red blood cells), potassium (helps balance the sodium from salt) and vitamins, including vitamin C (necessary for normal blood vessel structure and function and contributes to collagen formation in teeth and gums.