Vegetable & pearl barley soup
Vegetable & pearl barley soup
Prep 20 mins | Cook 1 hr | Serves 6
This nourishing cleansing soup is perfect for 'light' food days.
2 tbs olive oil
2 leeks, trimmed, halved lengthways and thinly sliced
3 garlic cloves, finely chopped
1 celery stick (including leafy top), chopped
2 carrots, halved lengthways and chopped
1 parsnip, quartered lengthways and chopped
4 cups chicken or vegetable stock
400g can chopped tomatoes
⅓ cup pearl barley, rinsed
¼ cup flat-leaf parsley, chopped + extra to serve
1 cup finely chopped kale leaves
2 tsps lemon juice
Step 1 Heat oil in a large saucepan over medium heat. Add leeks and cook, stirring often, for 4-5 minutes until tender. Add garlic, celery, carrots and parsnip and cook, stirring often, for 5 minutes.
Step 2 Add stock, tomatoes, barley and parsley, cover and bring to the boil over medium-high heat. Reduce heat to low, partially cover and simmer, stirring occasionally, for 35-40 minutes until barley is tender.
Step 3 Stir in parsley and kale and cook for 4-5 minutes until kale is tender. Season with salt and pepper to taste. Stir in lemon juice and serve sprinkled with extra chopped parsley.
Good for you ...
Kale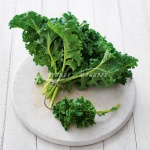 A good source of vitamins, including C and folate (both contribute to normal immune function), E (helps protect cells from damage by free radicals), K (important for normal blood clotting after injury) and beta carotene (converted to vitamin A in the body and necessary for normal vision)
Provides iron (needed for red blood cells) and calcium (important for healthy bones)
A good source of dietary fibre which is important for normal laxation.