Ultimate summer fruit platter
Ultimate summer fruit platter
Prep 25 mins + chilling time | Serves 6-8
1 ripe mango
200g cherries
125g raspberries
125g blueberries
8 plump strawberries, hulled
2 ripe nectarines, halved and cut into wedges
2 peaches, halved and cut into wedges
4 apricots, halved and stones removed
3 passionfruit, halved
Edible flowers, to serve, if liked
Honeycomb cream:
1 cup thickened cream
1 tsp vanilla extract
½ cup thick Greek-style natural yoghurt
3 x 50g chocolate honeycomb bars, roughly chopped
Step 1 To make honeycomb cream, using an electric hand-mixer, whip cream and vanilla until soft peaks form. Stir in yoghurt and honeycomb. Cover and refrigerate for 1 hour before serving.
Step 2 Place mango, stem-side down on a board. Cut downwards close to the stone and slice off the mango cheeks from the mango. Cut a honeycomb pattern into the flesh (but don't cut through the skin). Press underside to open up the mango flesh.
Step 3 Arrange the fruit on a large serving platter. Scatter with a few edible flowers if liked. Serve with the honeycomb cream.
Good for you ...
Cherries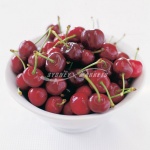 A good source of vitamin C. Among its many functions, vitamin C contributes to collagen which plays a role in healthy gums, teeth, bones, cartilage and skin.
Provide dietary fibre which helps the normal functioning of the intestine.
Cherries contain some antioxidants with the highest quantities found in fruit with darker-coloured flesh