Tuscan cabbage, pork & apple casserole
Tuscan cabbage, pork & apple casserole
Prep 20 mins | Cook 11⁄2 hr | Serves 6
1 kg pork scotch fillet, trimmed and cut into
4cm pieces
1⁄3 cup plain flour
1⁄4 cup olive oil
175g rindless bacon rashers, chopped
2 leeks, trimmed, halved lengthways and thinly sliced
2 cups chicken stock
6–8 thyme sprigs
2 medium Granny Smith apples, cored and quartered
1 bunch Tuscan cabbage, trimmed
Mashed potatoes, to serve
Step 1 Preheat oven to 180°C/160°C fan-forced. Lightly toss pork in seasoned flour. Heat 2 tbs oil in a large flameproof casserole pan over medium heat. Add pork in batches, and cook, stirring often, until evenly browned. Transfer to a plate. Add remaining oil to pan. Add bacon and leeks and cook, stirring often, for 3–4 minutes until leeks are tender.
Step 2 Return pork to pan. Add stock and thyme. Season with salt and pepper. Cover and bake for 1 hour. Add apples and cabbage and bake for a further 20–30 minutes until apples are just tender. Serve with mashed potatoes.
Good for you ...
Cavolo Nero (Tuscan Cabbage)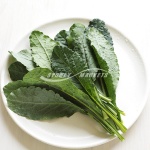 One of the richest sources of vitamin C and beta carotene, both important in the normal functioning of the body's immune system. Also provides vitamin K which is needed for normal formation of a blood clot after injury. As a bonus, there's also vitamins B1, B2, B3 and B6 – all important for good health.
Provides many minerals, including calcium (important for bone structure) and iron (important for normal blood formation).
A good source of two antioxidants called lutein and zeaxanthin, both of which play a role in eye health, especially in older people.