Tropical fruit smoothie bowls
Tropical fruit smoothie bowls
Prep 10 mins | Makes 4
Naturally sweet and delicious, these smoothie bowls are great for breakfast, lunch or an after school snack on a hot day.
2 medium ripe mangoes, flesh removed
2 cups chopped fresh pineapple (about ½ small pineapple)
2 peeled frozen bananas, chopped
½ cup reduced fat Greek-style natural yoghurt
Suggested toppings to serve:
Blueberries, seedless grapes, cherries, chopped mango, chopped pineapple & chia seeds
Step 1 Place all ingredients into a high-speed blender. Process until smooth. Pour mixture into 4 serving bowls.
Step 2 Top with fresh fruit of your choice and sprinkle with chia seeds. Serve immediately.
Good for you ...
Mangoes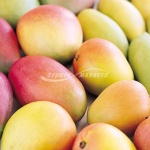 A very good source of vitamin C which contributes to the normal functioning of the body's immune system.
A good source of beta carotene, which the body converts to vitamin A. This vitamin is needed for normal vision. The deeper the colour of the mango flesh, the higher the level of beta carotene. Mango flesh also provides another carotenoid called cryptoxanthin which is being researched for its role in normal eye health.
A source of dietary fibre which is important for the normal function of the intestine.