Tropical fruit slushie
Prep 15 mins | Serves 4
2 cups ice-cubes
2 Valencia oranges, peeled and chopped
1⁄2 small pineapple, peeled and chopped
1 ripe mango, peeled and chopped
Step 1 Place ice-cubes in a blender and blend until roughly crushed.
Step 2 Add oranges, pineapple and mango. Blend until fruit is smooth and icy. Pour into serving glasses and serve.
Good for you ...
Pineapple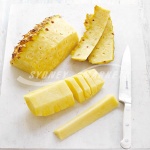 A good source of manganese, a mineral that contributes to the normal formation of bone and connective tissue.
A good source of vitamin C, which contributes to the normal functioning of the body's immune system.
Provides dietary fibre, which helps the intestine function normally.