Tropical fruit salad with coconut & yoghurt
Tropical fruit salad with coconut & yoghurt
Prep 15 mins | Cook 3 mins | Serves 4
For a breakfast fruit sundae, substitute the coconut with toasted muesli.
1⁄3 cup coconut flakes
1 plump mango
1⁄4 small pineapple, peeled
2 ripe bananas
2 passionfruit, pulp removed
250g reduced fat Greek-style natural yoghurt
Step 1 Place coconut into a small frying pan and cook, stirring constantly, over medium heat until pale golden. Remove from heat and set aside to cool.
Step 2 Peel and dice mango flesh. Remove core and dice pineapple. Peel and thickly slice bananas. Combine mango, pineapple and bananas in a bowl. Drizzle over passionfruit and toss to combine.
Step 3 To serve, spoon fruit mixture into serving cups or glasses, top with yoghurt and toasted coconut and serve.
Good for you ...
Bananas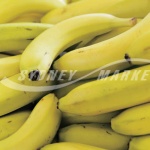 A good source of vitamins B6 and folate. Vitamin B6 is needed for the body's nervous system and folate is important for making red blood cells. A source of antioxidant vitamins E and C (vitamin C also helps protect us against infection). A good source of dietary fibre and also provides potassium.