Tomatoes with coriander, green chilli, peanut & lime pesto
Tomatoes with coriander, green chilli, peanut & lime pesto
Prep 20 mins | Cook 2 mins | Serves 4-6
This refreshing salad is perfect for hot summer days.
800g mixed ripe tomatoes (use a mix of ripe heirloom, baby and truss tomatoes)
Crusty sourdough bread, to serve
Coriander, green chilli, peanut & lime pesto (makes ¾ cup):
⅓ cup salted peanuts
1 long green chilli, deseeded
2 cups coriander leaves (about 1 large bunch)
2 garlic cloves, peeled
100ml peanut oil
2 tbs lime juice
½ tsp sesame oil
2 tsp palm sugar (or use caster sugar)
Step 1 To make the pesto, heat a small non-stick frying pan over medium-high heat. Add peanuts and cook, tossing often for 1-2 minutes until toasted. Set aside to cool slightly. Combine chilli, coriander, garlic, oil, lime juice, sesame oil and palm sugar in a small food processor. Process until well combined. Add peanuts and season well with pepper. Pulse until peanuts are roughly chopped. Transfer to a serving jar.
Step 2 To serve, slice tomatoes and arrange on a serving board or platter. Drizzle with the pesto and serve with crusty bread.
Good for you ...
Medley Tomatoes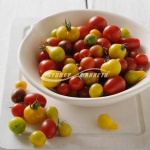 A very good source of vitamin C which contributes to the normal functioning of the body's immune system.
Provides potassium which may help balance the sodium from salt.
A source of dietary fibre which helps the normal function of the intestine.
Tomatoes are the richest food source of lycopene, a member of the carotenoid family. Research suggests that lycopene may play a role in the normal health of the prostate gland. The redder the tomato, the higher its lycopene content. Rich red tomatoes are also a source of beta carotene which is converted into vitamin A in the body and is needed for vision.