Tomato, mushroom & cabanossi pizza
Tomato, mushroom & cabanossi pizza
Prep 20 mins | Cook 15 mins | Serves 4
1 large ready-made pizza base
1⁄2 cup tomato pasta or pizza sauce
10 button mushrooms, sliced
1 cabanossi, sliced
1⁄2 red capsicum, trimmed, deseeded and diced
125g cherry tomatoes, halved
1–2 tbs sliced black olives (optional)
1 cup reduced fat grated mozzarella cheese
leafy green salad, to serve
Step 1 Preheat oven to 240°C/220°C fan-forced. Place pizza base on a baking tray lined with baking paper.
Step 2 Spread pizza base with tomato or pizza sauce. Top with mushrooms, cabanossi, capsicum, tomatoes and olives. Sprinkle with cheese. Bake for 12–15 minutes until crust is crisp and cheese has melted. Slice and serve with a leafy green salad.
Good for you ...
Button Mushrooms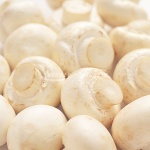 Fresh mushrooms differ from vegetables in that they supply mainly B group vitamins rather than contributing vitamin C and carotenoids (which are converted in the body to vitamin A).
They are a source of riboflavin (vitamin B2) and niacin, both of which contribute to the normal release of energy from food. They are also a source of the B vitamins pantothenic acid and biotin which both contribute to normal metabolism of fat.
A source of selenium, a mineral which contributes to the maintenance of hair and nails and the way the body uses iodine in its production of thyroid hormones.